Buried in the Sky: The Extraordinary Story of the Sherpa Climbers on K2's Deadliest Day (Paperback)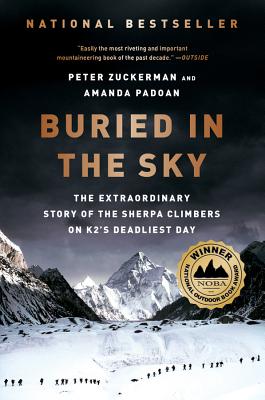 Description
---
Winner of the National Outdoor Book Award and the Banff Mountain Book Award for Mountain Literature



"Gripping, intense…Buried in the Sky will satisfy anyone who loved [Into Thin Air]." —Kate Tuttle, Boston Globe
When eleven climbers died on K2 in 2008, two Sherpas survived. Their astonishing tale became the stuff of mountaineering legend. This white-knuckle adventure follows the Sherpas from their remote villages in Nepal to the peak of the world's most dangerous mountain, recounting one of the most dramatic disasters in alpine history from a fascinating new perspective.
Winner of the NCTE George Orwell Award and an official selection of the American Alpine Club Book Club.
About the Author
---
Peter Zuckerman is a non-fiction writer. He has received some of the most prestigious recognitions in American journalism. At age 26 he won the Livingston Award, the largest, all-media, general reporting prize in America. His writing has also received is the National Journalism Award and the Blethan Award.

Amanda Padoan is a historian who writes about communities affected by armed conflict. She holds degrees from Harvard and University of Cambridge. Her first book, Buried in the Sky, received the National Outdoor Book Award.
Praise For…
---
Enthralling…phenomenal research and vivid writing create a memorable portrait not only of the events on the mountain but also of the people who make modern high-altitude climbing possible.
— Michael J. Ybarra - Wall Street Journal

Easily the most riveting and important mountaineering book of the past decade.
— Outside

An indispensable addition to the genre…a long-overdue historical correction to the familiar mountaineering story.
— Matthew Power - Men's Journal

An absorbing book that goes beyond the typical mountaineering tale…This book is mesmerizing.
— Sharon Haddock - Deseret News

It's a testament to the thrills in this book that I scoured the notes, eager to learn how the authors wrote their account…The authors' commendable documentary about the people who carry the gear is overtaken by the chilling adventure story of one terrible day on the mountain.
— Smithsonian Magazine

This compelling story brought back from K2's slopes is a worthy tale about a little-known aspect of these high-stakes climbs.
— Colleen Kelly - Minneapolis Star Tribune

Through phenomenal research, Zuckerman and Padoan have dug deeper than anyone else into one of the most mysterious tragedies in mountaineering history. Thanks to their efforts, the heroism and humanity of the Sherpa climbers who saved lives shine through the chaos and grief of that awful day on K2.
— David Roberts, co-author of K2: Life and Death on the World's Most Dangerous Mountain and author of Limits of the Known

An informative and inspirational book…I couldn't put it down.
— Jamling Tenzing Norgay, son of Tenzing Norgay, author of Touching My Father's Soul

Buried in the Sky reveals the heroic deeds of the Sherpa…[It] brings to light how immensely strong, loyal, and talented the Sherpa climbers are. Finally credit is given, where credit is due.

— Ed Viesturs, bestselling author of No Shortcuts to the Top and K2: Life and Death on the World's Most Dangerous Mountain

I admired Buried in the Sky and enjoyed it, too. Because the authors did their homework and wrote their story well, and most of all, because credit is given at long last to those who deserve it most.

— Peter Matthiessen, author of The Snow Leopard

The Sherpas climb off the page and carry a narrative that is as fast and as gripping as their superhuman ascents.
— Michael Kodas, author of High Crimes: The Fate of Everest in an Age of Greed