Black Death at the Golden Gate: The Race to Save America from the Bubonic Plague (Paperback)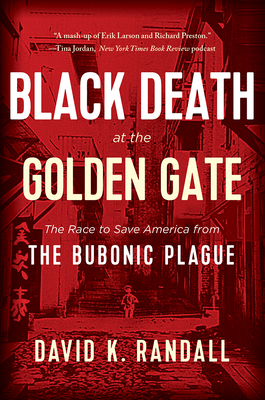 Staff Reviews
---
This fascinating history of how the bubonic plague almost destroyed San Francisco is a total pageturner. Who knew public health could be so interesting?
— Suzanna
Description
---
"A mash-up of Erik Larson and Richard Preston." —Tina Jordan, New York Times Book Review podcast
On March 6, 1900, the bubonic plague took its first victim on American soil: Chinese immigrant Wong Chut King. Empowered by racist pseudoscience, officials rushed to quarantine Chinatown—but when corrupt politicians mounted a cover-up to obscure the threat, it fell to federal health officer Rupert Blue to save San Francisco, and the nation, from a gruesome fate. Black Death at the Golden Gate is a spine-chilling saga of virulent racism, human folly, and the ultimate triumph of scientific progress.
About the Author
---
David K. Randall is a senior reporter at Reuters. The New York Times best-selling author of Black Death at the Golden Gate, Dreamland, and The King and Queen of Malibu, he lives in Montclair, New Jersey.
Praise For…
---
A vivid, fast-paced and at times revolting history of the plague in San Francisco.… [Black Death at the Golden Gate] unfolds like a medical thriller.

— Julia Flynn Siler - Wall Street Journal

The race to identify, isolate and halt the disease is set against a rich background of official complacency, financial malfeasance, political intrigues and scientific disputes.… Randall's account is pacy and gripping.
— Tilli Tansey - Nature

A meticulously researched history that unfolds like a thriller.
— Mary Roach, New York Times best-selling author of Grunt

A haunting detective tale packed with villains and heroes.
— Jason Fagone, author of the national bestseller The Woman Who Smashed Codes

Black Death at the Golden Gate provides a fascinating glimpse into [a] forgotten chapter of American history.… Discrimination, bigotry, and greed are woven throughout this fast-paced, historical, non-fiction adventure.… This is a great read for anyone who enjoys history or medicine.

— Jennifer Melville - San Francisco Book Review

A fascinating, in-depth look at a little-known episode in American history.… The story of the bubonic plague outbreak serves as an excellent lead-in for Randall to examine the advances that created modern cities.
— Shelf Awareness

This story of an epidemic that wasn't is a gripping historical mystery and a key cautionary tale for our own time.
— Booklist

A complex tale of medicine, politics, race, and public health.… [Randall] does good work in revealing the clamorous clash of public and private interests surrounding the outbreak.… A tale that resonates with the outbreak of measles, mumps, and other supposedly contained epidemics today.
— Kirkus Reviews

David K. Randall is a spellbinding writer. He has turned a critical chapter of medical history into a riveting tale that reads like a detective novel, chock-full of scandals and intrigue.… Read Black Death at the Golden Gate because it's a page-turner, but more important, read this book because the issues Randall spotlights resonate today.

— Randi Hutter Epstein, author of Aroused
We appreciate your continued support!
If you would like to make a donation to help us through CLICK HERE.