Goodbye, Things: The New Japanese Minimalism (Hardcover)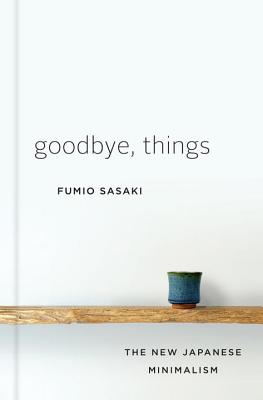 Description
---
The best-selling phenomenon from Japan that shows us a minimalist life is a happy life.
Fumio Sasaki is not an enlightened minimalism expert or organizing guru like Marie Kondo—he's just a regular guy who was stressed out and constantly comparing himself to others, until one day he decided to change his life by saying goodbye to everything he didn't absolutely need. The effects were remarkable: Sasaki gained true freedom, new focus, and a real sense of gratitude for everything around him. In Goodbye, Things Sasaki modestly shares his personal minimalist experience, offering specific tips on the minimizing process and revealing how the new minimalist movement can not only transform your space but truly enrich your life. The benefits of a minimalist life can be realized by anyone, and Sasaki's humble vision of true happiness will open your eyes to minimalism's potential.
About the Author
---
Fumio Sasaki is a Japanese author, editor, and minimalist. He is the former coeditor in chief of Japan's Wani Books, and cofounder of the website Minimal & ism. He currently lives in the Philippines.
Praise For…
---
Inspiring in its straightforwardness and sincerity . . . I don't think it would be possible to read Goodbye, Things without taking a look at your own home (and life) with a new set of eyes. . . . In the end, what matters is the thoughtfulness the book inspires.

— Janel Laban - Apartment Therapy

In his new book, Goodbye, Things, Fumio Sasaki shares the lessons he learned by going minimalist. . . . For Sasaki, minimalism isn't about how little you have, but how it makes you feel. Sasaki credits his minimalist lifestyle with helping him lose weight, become extroverted and proactive, and above all, feel happy and grateful for what he has.

— Heeseung Kim - Cosmopolitan

Makes the case for radical minimalism . . . treat each of [Sasaki's] 70 tips as an opportunity to reevaluate how you use and why you keep the things in your home.
— Jenny Xie - Curbed

Take your spring cleaning to the next level with Goodbye, Things by Fumio Sasaki. A best-seller in Japan, this book uncovers why we want to own more than we need, what this mentality does to our well-being and how we can live better by owning less.

— Katie Neal - Parade

If you've ever felt bogged down by all of the things filling your life up with clutter then this is the book for you.
— C.A. - The Daily Want

In a time of rampant consumerism, a new movement is preaching an alternative path — one that banishes all but the most fundamental and enriching consumer products from our lives. In Goodbye, Things, Fumio Sasaki recounts his conversion from reckless hoarder to hyper-mindful consumer, and offers advice to those seeking the same simple happiness that he found in minimalism.

— Gear Patrol