Unworthy Republic: The Dispossession of Native Americans and the Road to Indian Territory (Hardcover)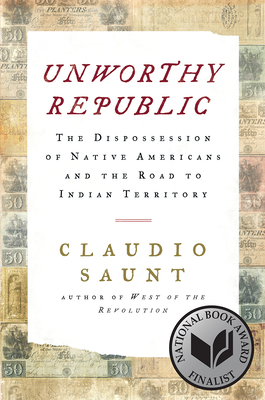 Description
---
Finalist for the 2020 National Book Award for Nonfiction

Shortlisted for the 2020 Cundill History Prize

Named a Best Book of 2020 by the Washington Post, the Boston Globe, the Atlantic, Publishers Weekly, and a New York Times Critics' Top Book of 2020



A masterful and unsettling history of "Indian Removal," the forced migration of Native Americans across the Mississippi River in the 1830s and the state-sponsored theft of their lands.
In May 1830, the United States formally launched a policy to expel Native Americans from the East to territories west of the Mississippi River. Justified as a humanitarian enterprise, the undertaking was to be systematic and rational, overseen by Washington's small but growing bureaucracy. But as the policy unfolded over the next decade, thousands of Native Americans died under the federal government's auspices, and thousands of others lost their possessions and homelands in an orgy of fraud, intimidation, and violence. Unworthy Republic reveals how expulsion became national policy and describes the chaotic and deadly results of the operation to deport 80,000 men, women, and children.
Drawing on firsthand accounts and the voluminous records produced by the federal government, Saunt's deeply researched book argues that Indian Removal, as advocates of the policy called it, was not an inevitable chapter in U.S. expansion across the continent. Rather, it was a fiercely contested political act designed to secure new lands for the expansion of slavery and to consolidate the power of the southern states. Indigenous peoples fought relentlessly against the policy, while many U.S. citizens insisted that it was a betrayal of the nation's values. When Congress passed the act by a razor-thin margin, it authorized one of the first state-sponsored mass deportations in the modern era, marking a turning point for native peoples and for the United States.
In telling this gripping story, Saunt shows how the politics and economics of white supremacy lay at the heart of the expulsion of Native Americans; how corruption, greed, and administrative indifference and incompetence contributed to the debacle of its implementation; and how the consequences still resonate today.
About the Author
---
Claudio Saunt is the Richard B. Russell Professor in American History at the University of Georgia. He is the author of award-winning books, including A New Order of Things; Black, White, and Indian; and West of the Revolution. He lives in Athens, Georgia.
Praise For…
---
One of the most important books published on U.S. history in recent years and should be required reading for all Americans.
— Sven Beckert, Laird Bell Professor of History, Harvard University, author of Empire of Cotton

Unworthy Republic is a study in power. It describes, in detail, the coming together of money, rhetoric, political ambition, and white-supremacist idealism. Saunt shows his readers the cost of a racial caste system in the United States.

— David Treuer - Foreign Affairs

"Unworthy Republic" is a powerful and lucid account, weaving together events with the people who experienced them up close.…Saunt has written an unflinching book that reckons with this history and its legacy.
— Jennifer Szalai - New York Times

[A] much-needed rendering of a disgraceful episode in American history that has been too long misunderstood.
— Peter Cozzens - Wall Street Journal

[Unworthy Republic] is a haunting story of racialized cruelty and greed, which came to define a pivotal period in U.S. and indigenous history alike. . . As Saunt persuasively observes, we have yet to reckon with them today.

— Caitlin Fitz - Atlantic

[Unworthy Republic] is a major achievement… [Saunt] manages to do something truly rare: destroy the illusion that history's course is inevitable and recover the reality of the multiple possibilities that confronted contemporaries.

— Nick Romeo - Washington Post

There has been insufficient 'reckoning with the conquest of the continent,' Claudio Saunt relays in this excellent new book. In many accounts of U.S. history, the discussion of the mass deportation of native nations during the 1830s remains far too brief. Deportation's legacies in law, culture, and community continue to this day and find powerful exploration in this important addition to the field.
— Ned Blackhawk (Western Shoshone), professor of history and American studies, Yale University

A bold, new, and urgently needed standard for the way we should understand the history of Indian Removal…Saunt demonstrates with searing insight and unparalleled narrative skill how the bureaucratic and blatantly militaristic 'expulsion' of 80,000 indigenous people profoundly reshaped the U.S. Republic and forever changed Native American lives.
— Tiya Miles, professor of history, Harvard University, author of The Dawn of Detroit

Unworthy Republic offers a much-needed corrective to the American canon, showing how a heavy-handed president, a deadlocked Congress, and a lust for profit combined to construct a shameful national legacy. This book is timely, provocative, heart-wrenching, and original—a riveting story that invites us all to reflect on how we got where we are today.

— Elizabeth Fenn, Distinguished Professor, University of Colorado Boulder, Pulitzer Prize–winning author of Encounters at the Heart of the World

[T]horoughly researched and quietly outraged.
— Charles Hewitt - Star Tribune

Saunt presents a stark and well-documented case that Native American expulsion was a political choice rather than an inevitable tragedy. This searing account forces a new reckoning with American history.
— Publishers Weekly (starred review)

A significant, well-rendered study of a disturbing period in American history.
— Kirkus Reviews (starred review)
We appreciate your continued support!
If you would like to make a donation to help us through CLICK HERE.