Women in Clothes (Paperback)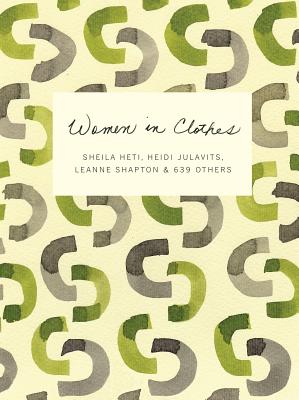 $30.00
This item is not currently available to order.
Staff Reviews
---
This smart and thought-provoking compilation takes a vast yet intimate
look at clothing and how we relate to it - how we choose to present
ourselves, how those choices are influenced by culture, economics,
politics and personal history - and how complex these decisions can be
(or feel.)
The many authors and interviewees range from Cambodian garment workers
to haute fashionistas.
Sometimes funny, often poignant, this is a fascinating book to be read
and mulled-over, then passed on to mothers, daughters, sisters,
girlfriends, friends, and some of the men in your life.
— Patty
Description
---
THE NEW YORK TIMES BESTSELLER

Women in Clothes is a book unlike any other. It is essentially a conversation among hundreds of women of all nationalities—famous, anonymous, religious, secular, married, single, young, old—on the subject of clothing, and how the garments we put on every day define and shape our lives.

It began with a survey. The editors composed a list of more than fifty questions designed to prompt women to think more deeply about their personal style. Writers, activists, and artists including Cindy Sherman, Kim Gordon, Kalpona Akter, Sarah Nicole Prickett, Tavi Gevinson, Miranda July, Roxane Gay, Lena Dunham, and Molly Ringwald answered these questions with photographs, interviews, personal testimonies, and illustrations.

Even our most basic clothing choices can give us confidence, show the connection between our appearance and our habits of mind, express our values and our politics, bond us with our friends, or function as armor or disguise. They are the tools we use to reinvent ourselves and to transform how others see us. Women in Clothes embraces the complexity of women's style decisions, revealing the sometimes funny, sometimes strange, always thoughtful impulses that influence our daily ritual of getting dressed.
About the Author
---
Sheila Heti is the author of eight books of fiction and nonfiction, including Motherhood, How Should a Person Be? which was a New York Times Notable Book and was named a best book of the year by The New Yorker. She is co-editor of the New York Times bestseller Women in Clothes, and is the former Interviews Editor for The Believer magazine. Her work has been published in The New York Times, The London Review of Books, The Paris Review, McSweeney's, Harper's, and n+1.

Heidi Julavits is the author of four novels, most recently The Vanishers, winner of the PEN/New England Fiction Award. She is a founding editor of The Believer and an associate professor at Columbia University.

Leanne Shapton is a Canadian illustrator, author, and publisher based in New York City. She is the author of Important Artifacts and Swimming Studies, winner of the 2012 National Book Critics Circle Award for Autobiography.
Praise For…
---
Praise for Women in Clothes

"Poems, interviews, pieces that read like diary or journal entries—all these responses help the editors fulfill their aims: to liberate readers from the idea that women have to fit a certain image or ideal, to show the connection between dress and 'habits of mind,' and to offer readers 'a new way of interpreting their outsides.' 'What are my values?' one woman asks. 'What do I want to express?' Those questions inform the multitude of eclectic responses gathered in this delightfully idiosyncratic book."—Kirkus Reviews

"Thoughtfully crafted and visually entertaining, this collection, edited by Heti, Julavits, and Shapton, uses personal reflections from 642 contributors to examine women's relationship with clothes in a deceptively lighthearted and irreverent tone....it also inspires meaningful questions…the prose is spliced with striking visuals...[a] provocative time capsule of contemporary womanhood."—Publishers Weekly

"[A] delirious assortment of conversations, essays, journal entries, and photographs…This big, busy book feels like a thrift store brimming with jumbles of clothes and accessories and alive with women's voices. Their comments and stories are canny, funny, incisive, twee, surprising, and caring, as thoughts and anecdotes about clothes touch on everything from gender to beauty, sex, mother-daughter relationships, aspirations, money, human rights, health, work, creativity, and violence. A uniquely kaleidoscopic and spirited approach to an irresistible subject of universal resonance."—Booklist

"This is the wisdom of the crowd, and while it's not authoritative or prescriptive, it's reassuring and fun."—Associated Press

"This charming patchwork expands the scope of fashion writing by looking not at forerunners of style but at how those outside the industry think about what they wear....The range of women involved [is] dazzling...a welcome addition to writing that often focuses on a single trend for all."—Madeleine Schwartz, The Boston Globe

"[A] thoughtful, droll, and often moving tome…Women in Clothes is the pulchritudinous addendum to Mr. Twain's famous quote—clothes make the woman."—Sloane Crosley, Interview

 "[A] winningly zine-like compendium."—Megan O'Grady, Vogue.com

"Women in Clothes dares to dive into the realm of heels and chiffon to suss out the deeper underpinnings of what we wear."—Bustle.com
Coverage from NPR