Visiting Hours: A Memoir of Friendship and Murder (Hardcover)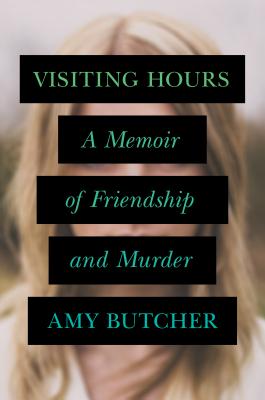 $28.30
This item is not currently available to order.
Staff Reviews
---
This eerie, beautifully-written memoir will keep you up all night.
— Suzanna
Description
---
"A gripping and poignant memoir."-Kirkus
In this powerful and unforgettable memoir, award-winning writer Amy Butcher examines the shattering consequences of failing a friend when she felt he needed one most. Four weeks before their college graduation, twenty-one-year-old Kevin Schaeffer walked Amy Butcher to her home in their college town of Gettysburg, Pennsylvania. Hours after parting ways with Amy, he fatally stabbed his ex-girlfriend, Emily Silverstein. While he was awaiting trial, psychiatrists concluded that he had suffered an acute psychotic break. Although severely affected by Kevin's crime, Amy remained devoted to him as a friend, believing that his actions were the direct result of his untreated illness. Over time, she became obsessed--determined to discover the narrative that explained what Kevin had done. The tragedy deeply shook her concept of reality, disrupted her sense of right and wrong, and dismantled every conceivable notion she'd established about herself and her relation to the world. Eventually realizing that she would never have the answers, or find personal peace, unless she went after it herself, Amy returned to Gettysburg--the first time in three years since graduation--to sift through hundreds of pages of public records: mental health evaluations, detectives' notes, inventories of evidence, search warrants, testimonies, and even Kevin's own confession.
Visiting Hours is Amy Butcher's deeply personal, heart-wrenching exploration of how trauma affects memory and the way a friendship changes and often strengthens through seemingly insurmountable challenges. Ultimately, it's a testament to the bonds we share with others and the profound resilience and strength of the human spirit.
About the Author
---
Amy Butcher's work has appeared in The New York Times, The Paris Review online, Tin House online, The Iowa Review, Salon, Gulf Coast, Guernica and Brevity, among others. She earned her MFA from the University of Iowa and is the recipient of awards and grants from the Kimmel Harding Nelson Center for the Arts, the Stanley Foundation for International Research, the Academy of American Poets, and Colgate University's Olive B. O'Connor Creative Writing Fellowship. She is the recipient of the 2014 Iowa Review award in nonfiction and teaches writing at Ohio Wesleyan University.
Coverage from NPR