Brown Girl Dreaming (Hardcover)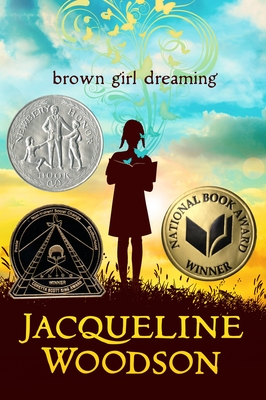 $18.99
This item is not currently available to order.
Description
---
A New York Times Bestseller and National Book Award Winner

Jacqueline Woodson, the acclaimed author of Red at the Bone, tells the moving story of her childhood in mesmerizing verse.
 
Raised in South Carolina and New York, Woodson always felt halfway home in each place. In vivid poems, she shares what it was like to grow up as an African American in the 1960s and 1970s, living with the remnants of Jim Crow and her growing awareness of the Civil Rights movement. Touching and powerful, each poem is both accessible and emotionally charged, each line a glimpse into a child's soul as she searches for her place in the world. Woodson's eloquent poetry also reflects the joy of finding her voice through writing stories, despite the fact that she struggled with reading as a child. Her love of stories inspired her and stayed with her, creating the first sparks of the gifted writer she was to become.
 
A National Book Award Winner
A Newbery Honor Book
A Coretta Scott King Award Winner

Praise for Jacqueline Woodson:
Ms. Woodson writes with a sure understanding of the thoughts of young people, offering a poetic, eloquent narrative that is not simply a story . . . but a mature exploration of grown-up issues and self-discovery."—The New York Times Book Review


About the Author
---
Jacqueline Woodson (www.jacquelinewoodson.com) is the recipient of a 2023 Guggenheim Foundation Fellowship, a 2020 MacArthur Fellowship, the 2020 Hans Christian Andersen Award, the 2018 Astrid Lindgren Memorial Award, and the 2018 Children's Literature Legacy Award. She was the 2018–2019 National Ambassador for Young People's Literature, and in 2015, she was named the Young People's Poet Laureate by the Poetry Foundation. She received the 2014 National Book Award for her New York Times bestselling memoir Brown Girl Dreaming, which was also a recipient of the Coretta Scott King Award, a Newbery Honor, the NAACP Image Award, and a Sibert Honor. She wrote the adult books Red at the Bone, a New York Times bestseller, and Another Brooklyn, a 2016 National Book Award finalist. Born in Columbus, Ohio, Jacqueline grew up in Greenville, South Carolina, and Brooklyn, New York, and graduated from college with a B.A. in English. She is the author of dozens of award-winning books for young adults, middle graders, and children; among her many accolades, she is a four-time Newbery Honor winner, a four-time National Book Award finalist, and a three-time Coretta Scott King Award winner. Her books include Coretta Scott King Award winner Before the Ever After; New York Times bestsellers The Day You Begin and Harbor Me; The Other Side, Each Kindness, Caldecott Honor book Coming On Home Soon; Newbery Honor winners Feathers, Show Way, and After Tupac and D Foster; and Miracle's Boys, which received the LA Times Book Prize and the Coretta Scott King Award. Jacqueline is also a recipient of the Margaret A. Edwards Award for lifetime achievement for her contributions to young adult literature and a two-time winner of the Jane Addams Children's Book Award. She lives with her family in Brooklyn, New York.
Praise For…
---
A National Book Award Winner
A Coretta Scott King Award Winner
A Newbery Honor Book
One of TIME MAGAZINE's 100 Best YA Books of All Time

"Brown Girl Dreaming, Jacqueline Woodson's highly lauded collection of free-verse poems about her childhood in New York and South Carolina, has language simple enough to be accessible to tweens and young teenagers and more than enough complexity to engage older readers. The winner of a Newbery Honor, NAACP Image Award, National Book Award and Coretta Scott King Award, Brown Girl Dreaming presents the story of Woodson's experiences living with the remnants of Jim Crow during the 1960s and 1970s. The author confronts issues like faith, racism and sexual abuse using the elegant, spare language and powerful imagery she has come to be known for." —TIME MAGAZINE

"Gorgeous."—Vanity Fair

"A radiantly warm memoir."—The Washington Post

"Moving and resonant . . . captivating."—The Wall Street Journal

"This is a book full of poems that cry out to be learned by heart. These are poems that will, for years to come, be stored in our bloodstream."—The New York Times Book Review

"A profoundly moving memoir."—San Francisco Chronicle

* "The writer's passion for stories and storytelling permeates the memoir, explicitly addressed in her early attempts to write books and implicitly conveyed through her sharp images and poignant observations seen through the eyes of a child. Woodson's ability to listen and glean meaning from what she hears lead to an astute understanding of her surroundings, friends, and family."— Publishers Weekly, STARRED REVIEW

* "Mesmerizing journey through [Woodson's] early years. . . . Her perspective on the volatile era in which she grew up is thoughtfully expressed in powerfully effective verse. . . . With exquisite metaphorical verse Woodson weaves a patchwork of her life experience . . . that covers readers with a warmth and sensitivity no child should miss. This should be on every library shelf."—School Library Journal, STARRED REVIEW

* "Woodson cherishes her memories and shares them with a graceful lyricism; her lovingly wrought vignettes of country and city streets will linger long after the page is turned. For every dreaming girl (and boy) with a pencil in hand (or keyboard) and a story to share."—Kirkus Reviews, STARRED REVIEW

* "[Woodson's] memoir in verse is a marvel, as it turns deeply felt remembrances of Woodson's preadolescent life into art. . . . Her mother cautions her not to write about her family but, happily, many years later, she has and the result is both elegant and eloquent, a haunting book about memory that is itself altogether memorable."—Booklist, STARRED REVIEW

* "A memoir-in-verse so immediate that readers will feel they are experiencing the author's childhood right along with her. . . . Most notably of all, perhaps, we trace her development as a nascent writer, from her early, overarching love of stories through her struggles to learn to read through the thrill of her first blank composition book to her realization that 'words are [her] brilliance.' The poetry here sings: specific, lyrical, and full of imagery. An extraordinary—indeed brilliant—portrait of a writer as a young girl."—The Horn Book, STARRED REVIEW

* "The effect of this confiding and rhythmic memoir is cumulative, as casual references blossom into motifs and characters evolve from quick references to main players. . . . Revealing slices of life, redolent in sight, sound, and emotion. . . . Woodson subtly layers her focus, with history and geography the background, family the middle distance, and her younger self the foreground. . . . Eager readers and budding writers will particularly see themselves in the young protagonist and recognize her reveling in the luxury of the library and unfettered delight in words. . . . A story of the ongoing weaving of a family tapestry, the following of an individual thread through a gorgeous larger fabric, with the tacit implication that we're all traversing such rich landscapes. It will make young readers consider where their own threads are taking them."—The Bulletin of the Center for Children's Books, STARRED REVIEW

* "Woodson uses clear, evocative language. . . . A beautifully crafted work."—Library Media Connection, STARRED REVIEW
Coverage from NPR