A Round of Robins (Hardcover)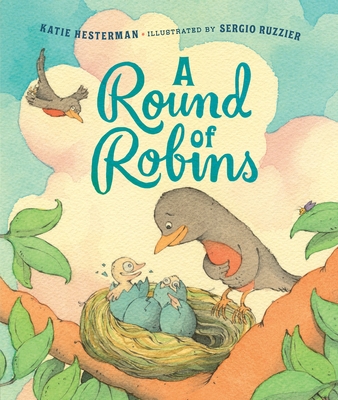 Description
---
Sixteen fresh and funny poems welcome a new batch of robins to the world!

Food Fight
Jumble, jostle, rumble, squirm;
Dad has landed with a worm.
Game of tug-of-war begins--
Biggest bossy baby wins.

Mama's a skillful architect, constructing a sturdy nest, while Dad's a champion turf defender. And those hatchlings! Such fluffs of plump perfection!

Katie Hesterman's vibrant verse celebrates this awesome circle of bird life, as we follow a pair of robin parents from nest-building and egg-laying, to raising their hungry hatchlings, and finally sending off their flying fledglings. Sergio Ruzzier's brilliant, candy-colored art pays tribute to all these stages of a robin's life cycle, reminding us that while robins may be common, they are also extraordinary!
About the Author
---
This is Katie Hesterman's debut picture book. She lives in Fort Wayne, Indiana.

Sergio Ruzzier is a picture book author and illustrator whose work has received awards from American Illustration, the Society of Illustrators, Communication Arts, and the Society of Publication Designers. He won Parents' Choice Gold Medals for This Is Not a Picture Book, The Room of Wonders, and Why Mole Shouted, and he was a recipient of the 2011 Sendak Fellowship. He lives in Brooklyn, New York.
Praise For…
---
* "Hesterman fills her jaunty rhyming verses with numerous puns and alliterations, while conjuring up sweet yet mostly factual vignettes of the birds' journey to maturity. Ruzzier's cartoon illustrations capture these scenes of avian domesticity with just the right mix of humor and warmth, hilariously expressive feathered protagonists (and their grumpy neighbors) inhabiting his slightly fantastical idiosyncratic flora, all colored in ethereal watercolor washes. An utterly charming choice for most collections, perfect for one-on-one and small group -sharing."—School Library Journal, starred review

* "Hesterman debuts with 16 poems that lightheartedly chart the development of a family of robins. . . . A perfect fit for Ruzzier's gently surreal brand of cartooning. . . . It's a charmer of an animal family story, with rhymes that are a pleasure to read aloud."—Publishers Weekly, starred review

* "Factual and funny. . . . Hesterman's poems are brief and very easy to read, with little jokes but also using correct terminology. . . . Ruzzier's pen-and-ink and watercolor pictures build on the signature orange of a robin's breast, extending that color to tree limbs and hills; his robins feature correct bird anatomy but add ways of standing and angling their wings that are comically reminiscent of humans. Individual poems stand alone, but the book is also short and lively enough for a full read-through."—The Horn Book, starred review

"Punchy poems that beg to be read aloud follow a pair of robins through parenthood. . . . Hesterman alternates solid vocabulary—'lair,' 'clutch,' 'slumber,' 'fledgling'—with delightful made-up words. . . . Rhymes and rhythms are spot-on and will hold rapt both lap readers and storytime audiences, the onomatopoeia adding to the fun. . . . Ruzzier's pen-and-ink-and watercolor illustrations show cartoon robins with anthropomorphic poses and facial expressions in a habitat that seems a combination of Dr. Seuss and the scenery from Road Runner. An enjoyably rhythmic slice of robin life for young naturalists and bird-watchers."—Kirkus Reviews

"With colorful, cartoon art and playful rhymes, these 16 poems present various stages of a robin's life. . . . Watercolor and pen-and-ink illustrations depict the expressive robins along with other birds, insects, and a rabbit, all in a sparse, vaguely Seussian landscape. Periodic sound-effect asides enliven the text. . . . The read-aloud friendly text and classroom-friendly subject matter make this a nice choice for a springtime story hour."—Booklist
We appreciate your continued support!
If you would like to make a donation to help us through CLICK HERE.