Neverworld Wake (Paperback)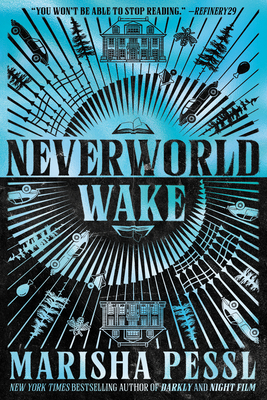 Description
---
"A 'clear your calendar' kind of one-day read." --MELISSA ALBERT, New York Times bestselling author of The Hazel Wood

Five friends. Only one can survive the Neverworld Wake. Who would you choose?

From the acclaimed New York Times bestselling author of Special Topics in Calamity Physics and Night Film comes an absorbing psychological suspense thriller in which fears are physical and memories come alive.

"A thriller that will grip readers from the start." --Hypable

It's been one year since graduation, and Beatrice Hartley has mixed feelings about joining her friends for a weekend reunion.
She's right to be worried. After a night out, they narrowly avoid a collision with a car on a deserted road. Or so they believe.
Back at the mansion where they are staying, a mysterious man knocks on the door during a raging storm. He tells them that they must make a choice: one of them will live, and the rest will die. And the decision must be unanimous.
Soon time backbends. Beatrice and her friends are forced to repeat that dreadful day so many times they lose count. With each replay, events twist and fears come alive in horrifying ways.
This nightmare, this nothingness . . . this is the Neverworld Wake.
To escape, they have to vote. But how do you choose who to kill? And then how do you live with yourself?

"Beautifully creepy." --The New York Times

"You won't be able to stop reading until the mystery is unraveled." --Refinery29

"A dark and twisty tale brimming with psychological suspense." --Bustle
About the Author
---
Marisha Pessl is the author of Night Film and Special Topics in Calamity Physics, which won the John Sargent Sr. First Novel Prize (now the Center for Fiction's Flaherty-Dunnan First Novel Prize) and was selected as one of the 10 Best Books of the Year by The New York Times Book Review. Pessl grew up in Asheville, North Carolina, and currently resides in New York City.
Praise For…
---
A Chicago Public Library Best Book of the Year
 
"Neverworld Wake is a shape-shifting binge read . . . It's a 'clear your calendar' kind of one-day read, singular as both a psychological thriller and a new addition to Pessl's uncategorizable canon." --Melissa Albert, New York Times bestselling author of The Hazel World

"Beautifully creepy . . . .A mystery within a mystery." --The New York Times


"An altogether eerie, philosophically challenging exploration of the ways in which our actions have consequences . . . the kind of book you'll tear through and then want to talk about with everyone you know immediately after finishing." -- Nylon

"The first must-read of beach season." --Town & Country

"[A]sophisticated novel ... similar to Libba Bray's acclaimed Going Bovine."—VOYA, starred review

"Pessl (Special Topics in Calamity Physics) adeptly creates a compelling nightmare world while maintaining a foothold in realism. Thought-provoking and suspenseful." --PW

"Unpredictable, exciting, and emotionally wrenching." --SLJ

"Pessl manages to keep her first-person narrative moving forward while her characters are stuck in time. An eloquent and haunting tale." --Kirkus Reviews

"This novel has ambition to spare, and teens looking for something odd, atmospheric, and twisty will likely be enthralled." --Booklist


" . . . there's a broad range of readers who will find Neverworld a place in which to linger." --The Bulletin
 
"A dark and twisty tale brimming with psychological suspense." —Bustle
We appreciate your continued support!
If you would like to make a donation to help us through CLICK HERE.