The Comic Book Story of Professional Wrestling: A Hardcore, High-Flying, No-Holds-Barred History of the One True Sport (Paperback)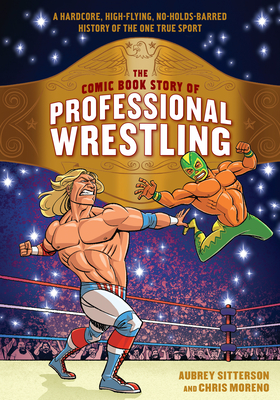 $18.99

Available in our Warehouse: Usually Ships in 3-8 Days
Description
---
From the host of the critically acclaimed pro wrestling podcast Straight Shoot, this graphic novel history of wrestling features the key grapplers, matches, and promotions that shaped this beloved sport and form of entertainment.

As a pop culture phenomenon, professional wrestling--with its heroic babyfaces and villainous heels performing suplexes and powerbombs in pursuit of championship gold--has conquered audiences in the United States and around the world. Now, writer/podcaster Aubrey Sitterson and illustrator Chris Moreno form a graphic novel tag team to present wrestling's complete illustrated history. Featuring legendary wrestlers like Bruno Sammartino, Hulk Hogan, and The Rock, and modern-day favorites like John Cena, Kenny Omega, and Sasha Banks, the book covers wrestling's progress from the carnival days of the Gold Dust Trio to the dominance of the WWF/WWE to today's diverse independent wrestling scene, and it spotlights wrestling's reach into Mexico/Puerto Rico (lucha libre), the U.K. (all-in), and Japan (puroresu).
About the Author
---
AUBREY SITTERSON is a comic book writer who has worked for Marvel, DC, Image, BOOM!, Oni, and Viz. His notable work includes the graphic novel Worth with Chris Moreno as well as an extended run on G.I. Joe for IDW Publishing. In addition to being the creator and host of the wrestling podcast Straight Shoot, Sitterson has also written for WWE.com and worked on the WWE video games at 2K Games.

CHRIS MORENO is a comics artist and creator who has worked for BOOM! Studios, IDW, Image Comics, Marvel Comics, and Zenescope, among others.
Praise For…
---
"The Comic Book Story of Professional Wrestling captures the great spirit and heart of pro wrestling with vivid color and history on every page. Old and new fans alike will enjoy going on the journey of one of the last great forms of Americana: Wrestling." —American Nightmare Cody, professional wrestler, Ring of Honor and New Japan Pro-Wrestling
 
"I hate wrestling. I'm just not a fan... but this book chiseled through the hardened outer shell of my cold black heart and reminded me of how much I loved wrestling in my youth. You'd be a fool not to allow it to bring the magic back into your heart as well. And if the magic is already there? You'll love it even more!" —Robert Kirkman, creator of The Walking Dead
 
"Fun, creative, but most importantly, informative. A great history lesson of the greatest sport in the world…professional wrestling." —Roderick Strong, professional wrestler, WWE
 
"Whether you're a brand new professional wrestling viewer, a lifelong fan, or even a 25-year veteran of the squared circle like me, The Comic Book Story of Professional Wrestling will entertain and enlighten you with the history of one of America's greatest art forms. Could it use more Christopher Daniels? Of course, but every book printed suffers from 'not enough Christopher Daniels.' Absolutely a must-read!" —Christopher Daniels, professional wrestler, Ring of Honor 
 
"If you love wrestling and comics, you'll love this great, detailed journey through wrestling's past. If you don't already know it all, you'll learn and forget more than you already did. I know I did." —Viktor, professional wrestler, WWE
 
"Once you crack open The Comic Book Story of Professional Wrestling, you won't want to shut it! This book succeeds in layering rich illustrations over compelling stories and will keep your attention from start to finish. Diehards will marvel at the attention to detail. Novices will find their imaginations running wild from all the unreal yet real tales from the annals of the One True Sport. I know that professional wrestling is, bar none, the greatest form of entertainment known to man; let Aubrey and Chris take you on a journey so you can discover that for yourselves. Enjoy!" —Kassius Ohno, professional wrestler, WWE
 
"The story of professional wrestling in the United States over the last fifty years is nearly convoluted beyond comprehension. So, of course, Aubrey Sitterson decided to cover the origins and history of professional wrestling across three continents. And not only have he and Chris Moreno made it comprehendible, they've made it as highly entertaining and visually exciting as the One True Sport itself." —Excalibur, co-founder of Pro Wrestling Guerilla
 
"If there was a college course on the history of pro wrestling, this would be the textbook! Truly crafted with an undeniable love of the sport, Aubrey and Chris do the best job I've ever seen at representing the history and art of the squared circle. Absolutely amazing. I can't recommend it enough!" —Ed McGuinness, artist for Marvel Comics and DC Comics
 
"Sitterson and Moreno take you hard way though the annals of professional wrestling in a gorgeous and insightful read. History books aren't supposed to be this entertaining." —Dennis Hopeless, writer for Marvel Comics and of WWE comics
 
"What if Ken Burns cut a promo? The Comic Book Story of Professional Wrestling is the engaging answer, bursting forth with a detailed, passionate look at pro wrestling's over-a-century of history, with tensed, collar-and-elbow intimacy. This is the place to learn the tradition, the culture, and the pop-culture power of pro wrestling from its very roots up to and beyond its ubiquitous present." —Steve Orlando, writer for DC Entertainment and Image Comics
 
"Sitterson & Moreno present one of the most complete views of an art form that is as unpredictable and chaotic as it is beautiful." —Michael Kingston, writer of Headlocked