This Is All I Got: A New Mother's Search for Home (Paperback)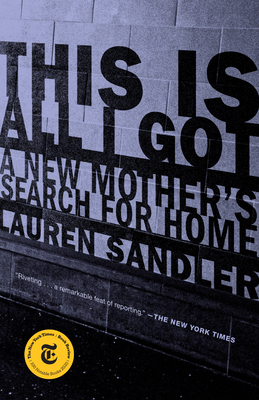 $18.00
Coming Soon - Available for Pre-Order Now
Description
---
A NEW YORK TIMES NOTABLE BOOK • From an award-winning journalist, a poignant and gripping immersion in the life of a young, homeless single mother amid her quest to find stability and shelter in the richest city in America

LONGLISTED FOR THE PEN/JEAN STEIN BOOK AWARD • "Riveting . . . a remarkable feat of reporting."—The New York Times

Camila is twenty-two years old and a new mother. She has no family to rely on, no partner, and no home. Despite her intelligence and determination, the odds are firmly stacked against her. In this extraordinary work of literary reportage, Lauren Sandler chronicles a year in Camila's life—from the birth of her son to his first birthday—as she navigates the labyrinth of poverty and homelessness in New York City. In her attempts to secure a safe place to raise her son and find a measure of freedom in her life, Camila copes with dashed dreams, failed relationships, the desolation of abandonment, and miles of red tape with grit, humor, and uncanny resilience.

Every day, more than forty-five million Americans attempt to survive below the poverty line. Every night, nearly sixty thousand people sleep in New York City-run shelters, 40 percent of them children. In This Is All I Got, Sandler brings this deeply personal issue to life, vividly depicting one woman's hope and despair and her steadfast determination to change her life despite the myriad setbacks she encounters. 

This Is All I Got is a rare feat of reporting and a dramatic story of survival. Sandler's candid and revealing account also exposes the murky boundaries between a journalist and her subject when it becomes impossible to remain a dispassionate observer. She has written a powerful and unforgettable indictment of a system that is often indifferent to the needs of those it serves, and that sometimes seems designed to fail.

Praise for This Is All I Got

"A rich, sociologically valuable work that's more gripping, and more devastating, than fiction."—Booklist

"Vivid, heartbreaking. . . . Readers will be moved by this harrowing and impassioned call for change."—Publishers Weekly

"A closely observed chronicle . . . Sandler displays her journalistic talent by unerringly presenting this dire situation. . . . An impressive blend of dispassionate reporting, pungent condemnation of public welfare, and gritty humanity."
—Kirkus Reviews
About the Author
---
Lauren Sandler is an award-winning journalist. She is the bestselling author of One and Only: The Freedom of Having an Only Child, and the Joy of Being One and Righteous: Dispatches from the Evangelical Youth Movement. Her essays and features have appeared in dozens of publications, including Time, The New York Times, Slate, The Atlantic, The Nation, The New Republic, The Guardian, and New York. Sandler has led the OpEd Project's Public Voices Fellowships at Yale, Columbia, and Dartmouth and has taught in the graduate journalism program at New York University, where she has also been a visiting scholar. Recently, she has been a Poynter Fellow at Yale and a Calderwood Fellow at MacDowell. She lives in Brooklyn.
Praise For…
---
"Too few journalists put the time in to allow the working poor and homeless to be heard, speaking clearly about their pitfalls and occasional triumphs, in their own words. Sandler has achieved this with skill."—Barbara Ehrenreich, author of Nickel and Dimed: On (Not) Getting By in America

"A remarkable feat of reporting . . . Sandler's such a keen observer, her writing so clear-eyed. . . . This Is All I Got is a testament to the bigness of the small story, to the power of intimate narratives to speak to something much larger."—The New York Times

"Meticulously crafted and brilliantly reported, Lauren Sandler's This Is All I Got exposes the Kafkaesque cruelties of America's disintegrating social safety net. It is a gut punch of a narrative, an electrifying summons to policy action, and an instant classic."—Dan-el Padilla Peralta, associate professor of classics, Princeton, and author of Undocumented: A Dominican Boy's Odyssey from a Homeless Shelter to the Ivy League
 
"This Is All I Got is an absorbing portrayal of a resourceful, driven, brilliant young woman—down and out in the richest country in the world. Sandler has written a book that reads like a novel, which only makes her indictment of dwindling affordability and the public assistance bureaucracy all the more penetrating."—Ayad Akhtar, Pulitzer Prize–winning author of Disgraced
 
"A timely and empathetic act of journalism, brimming with moral conundra and posing an urgent and implicit question: How could we do better for this mother? How could we do better for this child?"—Ted Conover, director of NYU's Arthur L. Carter Journalism Institute and author of Newjack: Guarding Sing Sing
 
"This is also a book you cannot put down: Lauren Sandler's remarkable, intimate reporting and her lyrical, specific prose shine."—Alissa Quart, author of Squeezed: Why Our Families Can't Afford America
 
"A stunning portrait of homelessness in America, and an unforgettable account of one mother's quest to find shelter in the contemporary city, This is All I Got is an urgent, myth-shattering book about what happens when we refuse to deal with urban poverty. Read it, share it, don't let the story disappear."—Eric Klinenberg, Helen Gould Shepard Professor in Social Science at NYU and author of Palaces for the People

"[An] engaging and moving new book . . . Sandler deftly includes context, history and clearheaded explanations of the public welfare system and its dysfunctions in her detailed account of Camila's life. . . . The 'system,' ostensibly there to help Camila, who became a ward of the state at age fifteen, almost becomes a character in the book. . . . Ultimately, the story of her first year of motherhood is heartbreaking, inspiring and infuriating, all at once."—Erica Pearson, Minneapolis StarTribune
We appreciate your continued support!
If you would like to make a donation to help us through CLICK HERE.