Life Like Dolls: The Collector Doll Phenomenon and the Lives of the Women Who Love Them (Paperback)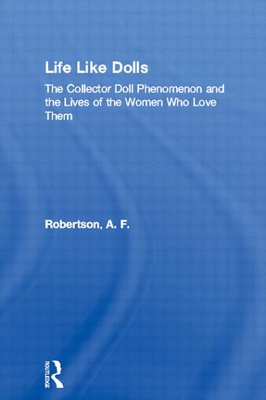 $79.73
This item is not currently available to order.
Description
---
Since the 1980s there has been a growing billion dollar business producing porcelain collectible dolls. Avertised in Sunday newspapers and mailbox fliers, even Marie Osmond, an avid collector herself, is now promoting her own line of dolls on the Home Shopping Network and sales are soaring. With average price tags of $100 -- and $500 or more for a handcrafted or limited edition doll -- these dolls strike a chord in the hearts of middle-aged and older women, their core buyers, some of whom create nurseries devoted to collections that number in the hundreds.
Each doll has its own name, identity and adoption certificate, like Shawna, who has just learned to stack blocks all by herself, and Bobby, whose brown, handset eyes shine with mischief and little-boy plans. Exploring the nexus of emotions, consumption and commodification they represent, A. F. Robertson tracks the rise of the porcelain collectible market; interviews the women themselves; and visits their clubs, fairs and homes to understand what makes the dolls so irresistible. Lifelike but freakish; novelties that profess to be antiques; pricey kitsch: These dolls are the product of powerful emotions and big business.
Life Like Dolls
pursues why middle-class, educated women obsessively collect these dolls and what this phenomenon says about our culture.
About the Author
---
A. F. Robertson is Professor of Anthropology at the University of California, Santa Barbara. He is the author of seven books including Greed and Beyond theFamily.