Perfect Victim: The True Story of "The Girl in the Box" by the D.A. That Prosecuted Her Captor (Mass Market)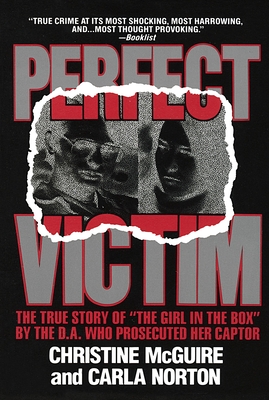 $9.89
This item is not currently available to order.
Description
---
"True crime at its most shocking, most harrowing, and . . . most thought-provoking."—Booklist

In 1977 twenty-year-old Colleen Stan left home to hitchhike from Oregon to California. Seven years later she emerged from hell, the victim of a bizarre and extraordinary crime.

This is Colleen's incredible true story, told by the determined young district attorney who prosecuted the man who had forced her to endure years of sexual perversion . . . and held her captive in a coffin-like box under his and his wife's bed. A story of riveting psychological intensity and gripping courtroom drama, Perfect Victim reveals the whole truth about Collen Stan's real-life nightmare . . . and the psychopath who enslaved her body and her mind.

"Horrifying!"—The Cincinnati Post

"Hard to put down!"—Chicago Tribune

"A gripping and disturbing story of the secret life of apparently normal people. At once, horrific and engrossing."—Vincent Bugliosi, author of Helter Skelter

About the Author
---
Christine McGuire is a veteran prosecutor of murder cases in a California District Attorney's office. She has taught at the academy of the Federal Bureau of Investigation in Quantico, Virginia. Her first book, Perfect Victim, a nonfiction account of a sexual enslavement case, was a #1 New York Times bestseller.

Carla Norton is a novelist and true crime writer. Her books include Perfect Victim, Disturbed Ground, What Doesn't Kill Her, and The Edge of Normal.
Praise For…
---
"True crime at its most shocking, most harrowing, and . . . most thought-provoking."—Booklist
"Horrifying!"—The Cincinnati Post

"Hard to put down!"—Chicago Tribune

"A gripping and disturbing story of the secret life of apparently normal people. At once, horrific and engrossing."—Vincent Bugliosi, author of Helter Skelter