The Last Mission (Mass Market)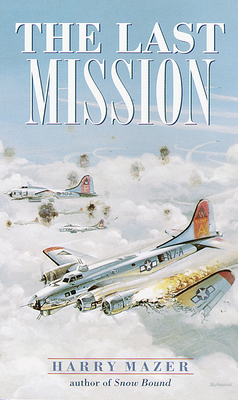 $7.99

Available in our Warehouse: Usually Ships in 3-8 Days
Description
---
In 1944, as World War II is  raging across Europe, fifteen-year-old Jack Raab  dreams of being a hero. Leaving New York City, his  family, and his boyhood behind, Jack uses a false  I.D. and lies his way into the U.S. Air  Force.



From their base in England, he and his crew  fly twenty-four treacherous bombing missions over  occupied Europe. The war is almost over and Hitler  near defeat when they fly their last mission -- a  mission destined for disaster. Shot down far  behind enemy lines, Jack is taken prisoner and sent to  a German POW camp, where his experiences are more  terrifying than anything he'd ever imagined.
About the Author
---
Harry Mazer's The Last Mission is drawn closely from his experiences as a seventeen-year-old in the Army Air Corps. Like Jack, he was a Jewish boy from the Bronx full of fantasies about heroism, and like Jack, he became a waist gunner and never fired his guns. He remembers, "I was scared every time we flew....On our 26th mission we flew over Pilzen, Czechoslovakia, to bomb the Skoda Munitions Works. We missed our target, turned over the target again, and were hit. I saw Mike, who was our radio operator, frozen in the door of the radio room. He never made it out of the plane. Only three of us parachuted....No one in the plane lived." ( ALAN Review, Fall 1980)
 
Harry Mazer is the editor of Twelve Shots: Outstanding Short Stories About Guns, where twelve authors explore the extreme emotions that guns provoke in all of us. Walter Dean Myers, Rita Williams-Garcia, Richard Peck and other well-known authors create a riveting collection of short fiction that explores the emotion-driven world of guns.