The Film Club: A Memoir (Paperback)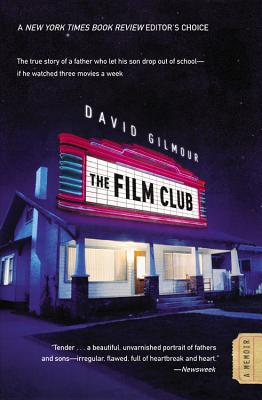 $16.99

Available in our Warehouse: Usually Ships in 3-8 Days
Description
---
A warmly witty account of the three years a man spent teaching life lessons to his high school dropout son by showing him the world's best (and occasionally worst) films.

At the start of this brilliantly unconventional family memoir, David Gilmour is an unemployed movie critic trying to convince his fifteen-year-old son Jesse to do his homework. When he realizes Jesse is beginning to view learning as a loathsome chore, he offers his son an unconventional deal: Jesse could drop out of school, not work, not pay rent - but he must watch three movies a week of his father's choosing.

Week by week, side by side, father and son watched everything from True Romance to Rosemary's Baby to Showgirls, and films by Akira Kurosawa, Martin Scorsese, Brian DePalma, Billy Wilder, among others. The movies got them talking about Jesse's life and his own romantic dramas, with mercurial girlfriends, heart-wrenching breakups, and the kind of obsessive yearning usually seen only in movies.

Through their film club, father and son discussed girls, music, work, drugs, money, love, and friendship - and their own lives changed in surprising ways.
About the Author
---
David Gilmour's sixth novel, A Perfect Night to Go to China, won the 2005 Governor-General's Award for fiction in Canada and has been translated into Russian, French, Thai, Italian, Dutch, Bulgarian, Serbian and Turkish. China and a previous book, Lost Between Houses, were both nominated for Ontario's Trillium Book Award. His novels have been praised by visionaries from William Burroughs to Northrop Frye, and in publications ranging from People magazine to the New York Times Book Review .

Gilmour worked for the Toronto International Film Festival before moving into a broadcasting career with the Canadian Broadcasting Corporation (CBC) where he served as the national film critic for country's flagship news show, The Journal. He went on to host his own talk show on CBC's Newsworld, Gilmour on the Arts, which won a Gemini Award. Gilmour's 5,000-word memoir of reading Tolstoy (My Life with Tolstoy) appeared in last summer's issue of the Walrus magazine (the Harper's of Canada) to huge response and acclaim.
Praise For…
---
"Tender . . . a beautiful, unvarnished portrait of fathers and sons-irregular, flawed, full of heartbreak and heart."—Peg Tyre, Newsweek

"Dynamic . . .heartwarming . . . With ironic wit and self-introspection, [Gilmour] beautifully analyzes the slow but transforming effect the films had on his son . . . Perfectly balanced recollections, brimming with pathos leavened by sardonic humor."—Kirkus Reviews

"I was hooked on Gilmour's spare, limpid style, and on the tenderness, bitter sweetness, and the film education that I could feel unfolding from the first page . . . THE FILM CLUB is a deep pleasure to read, almost as much fun as - or maybe more than - going to the movies."—Elizabeth Benedict, The Huffington Post

"Gilmour expertly tackles the nostalgia not only of film but also that of parents, watching as their children grow and develop separate lives. With his unique blend of film history and personal memoir, Gilmour's latest offering will deservedly win him new American fans."—Publishers Weekly, Starred Review

"Wise, hilarious and sometimes screwy . . . an inspiring change of pace from the way fathers usually are depicted . . . [Gilmour's] advice to Jesse about his painful girlfriend problems is warm and wise, with just the right amount of adult bluntness. THE FILM CLUB is a highly lovable book."—The Portland Oregonian

"Both for its smart, engaging movie talk and for its touching depiction of a father-son relationship, The Film Club gets two thumbs way up."—Booklist