The Night Circus (CD-Audio)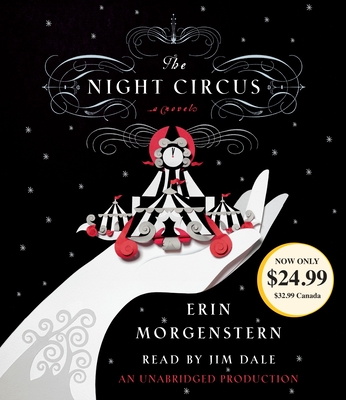 $27.49
This item is not currently available to order.
Fall '12 Reading Group List
---
"The Night Circus can be described in so many ways; It's a love story, a mystery, a fairy tale. However one describes it, it is definitely an exercise in imagination of the finest type. Share the amazement! You will become consumed by this story until the very last word. This is the type of book that should be debated over cups of coffee-grown-cold, long, long into the night! Highly recommended."
— Nancy Simpson-Brice, The Book Vault, Oskaloosa, IA
September 2011 Indie Next List
---
"This elegant debut is a striking example of a nostalgic yet modern fairy tale. When two competing magicians lay a wager as to which can mold the more powerful protege, they opt to use a fantastical traveling wonderland -- The Night Circus -- as the venue for the competition. What is meant to be a battle of magical skills evolves into something much deeper as apprentices Celia and Marco enchant not only the circus around them, but also each other. The real conflict arises when the two realize how the competition is meant to end and they set about trying to change their predestined fate. I adored diving into Morgenstern's mesmerizing world and mourned when I reached the end."
— Whitney Spotts, Schuler Books & Music, Lansing, MI
Description
---
The circus arrives without warning. No announcements precede it. It is simply there, when yesterday it was not. Within the black-and-white striped canvas tents is an utterly unique experience full of breathtaking amazements. It is called Le Cirque des Rêves, and it is only open at night.

But behind the scenes, a fierce competition is underway—a duel between two young magicians, Celia and Marco, who have been trained since childhood expressly for this purpose by their mercurial instructors. Unbeknownst to them, this is a game in which only one can be left standing, and the circus is but the stage for a remarkable battle of imagination and will. Despite themselves, however, Celia and Marco tumble headfirst into love—a deep, magical love that makes the lights flicker and the room grow warm whenever they so much as brush hands.

True love or not, the game must play out, and the fates of everyone involved, from the cast of extraordinary circus per­formers to the patrons, hang in the balance, suspended as precariously as the daring acrobats overhead.

Written in rich, seductive prose, this spell-casting novel is a feast for the senses and the heart.
About the Author
---
ERIN MORGENSTERN is the author of The Night Circus, a number-one national best seller that has been sold around the world and translated into thirty-seven languages. She has a degree in theater from Smith College and lives in Massachusetts.
Praise For…
---
"Playful and intensely imaginative, Erin Morgenstern has created the circus I have always longed for . . . This is a marvelous book."
—Audrey Niffenegger, author of The Time Traveler's Wife

"A world of almost unbearable beauty. This is one of the best books I have ever read."
—Brunonia Barry, author of The Lace Reader

Welcome to Le Cirque des Rêves: Within these nocturnal black-and-white-striped tents lies an utterly unique experience, a feast for the senses. Beyond the smoke and mirrors, however, a fierce competition is under way—a duel between two young magicians, Celia and Marco, who have been trained since childhood expressly for this purpose by their mercurial instructors. Unbeknownst to the players, this is a game in which only one can be left standing, and the circus is but the stage for a remarkable battle of imagination.

But when Celia and Marco innocently tumble head first into love—a deep, magical love that makes the lights flicker and the room grow warm whenever they so much as brush hands—their masters intervene with dangerous consequences.

Erin Morgenstern's singular and spell-casting debut is a mesmerizing love story for the ages.


"A riveting debut . . . pulls you into a world as dark as it is dazzling, fully realized but still something out of a dream. You will not want to leave it."
—Téa Obreht, author of The Tiger's Wife

"So magical that there is no escaping its spell. If you choose to read just one novel this year, this is it."—Danielle Trussoni, author of Angelology

"Pure pleasure . . . You can be certain this riveting debut will create a group of rêveurs all its own."—Aimee Bender, author of The Particular Sadness of Lemon Cake

"A gorgeously imagined fable . . . An enchanting read."
—Katherine Dunn, author of Geek Love