Conversations with Friends: A Novel (Hardcover)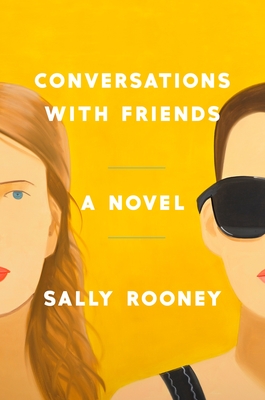 $27.00
Available in our Warehouse: Usually Ships in 3-8 Days
Description
---
"[A] cult-hit . . . [a] sharply realistic comedy of adultery and friendship."—Entertainment Weekly
 
SALLY ROONEY NAMED TO THE 2019 TIME 100 NEXT LIST • WINNER OF THE SUNDAY TIMES (UK) YOUNG WRITER OF THE YEAR AWARD • ONE OF BUZZFEED'S BEST BOOKS OF THE DECADE • NAMED ONE OF THE TEN BEST BOOKS OF THE YEAR BY VOGUE AND SLATE AND ONE OF THE BEST BOOKS OF THE YEAR BY BUZZFEED AND ELLE

Frances is a coolheaded and darkly observant young woman, vaguely pursuing a career in writing while studying in Dublin. Her best friend is the beautiful and endlessly self-possessed Bobbi. At a local poetry performance one night, they meet a well-known photographer, and as the girls are then gradually drawn into her world, Frances is reluctantly impressed by the older woman's sophisticated home and handsome husband, Nick. But however amusing Frances and Nick's flirtation seems at first, it begins to give way to a strange—and then painful—intimacy.

Written with gemlike precision and marked by a sly sense of humor, Conversations with Friends is wonderfully alive to the pleasures and dangers of youth, and the messy edges of female friendship.

SHORTLISTED FOR THE INTERNATIONAL DUBLIN LITERARY AWARD

"Sharp, funny, thought-provoking . . . a really great portrait of two young women as they're figuring out how to be adults."—Celeste Ng, "Late Night with Seth Meyers Podcast"

"The dialogue is superb, as are the insights about communicating in the age of electronic devices. Rooney has a magical ability to write scenes of such verisimilitude that even when little happens they're suspenseful."—Curtis Sittenfeld, The Week

"Rooney has the gift of imbuing everyday life with a sense of high stakes . . . a novel of delicious frictions."—New York

"A writer of rare confidence, with a lucid, exacting style . . . One wonderful aspect of Rooney's consistently wonderful novel is the fierce clarity with which she examines the self-delusion that so often festers alongside presumed self-knowledge. . . . But Rooney's natural power is as a psychological portraitist. She is acute and sophisticated about the workings of innocence; the protagonist of this novel about growing up has no idea just how much of it she has left to do."—Alexandra Schwartz, The New Yorker

"This book. This book. I read it in one day. I hear I'm not alone."—Sarah Jessica Parker (Instagram)
About the Author
---
Sally Rooney was born in the west of Ireland in 1991. Her work has appeared in The New Yorker, The New York Times, Granta and The London Review of Books. Winner of the Sunday Times Young Writer of the Year Award, she is the author of Conversations with Friends. In 2019, she was named to the inaugural Time 100 Next list.
Praise For…
---
"Smart and perceptive."—Minneapolis Star-Tribune
 
"The self-deceptions of a new generation are at the core of Sally Rooney's debut, Conversations with Friends, which captures something wonderfully odd-cornered and real in the story of an Irish millennial."—Megan O'Grady, Vogue
 
"A bracing, miraculous debut."—The Millions
 
"Sally Rooney's debut novel is a remarkably charming exploration of that very uncharming subject: the human ego. . . . Conversations with Friends sparkles with controlled rhetoric. But it ends up emphasizing the truths exploding in the silences."—Slate
 
"Rooney's exploration of growing out of naïveté is true to life, sometimes painfully so, and anyone who has thrived on created drama, who has imagined higher stakes than exist, will see a bit of themselves."—BuzzFeed
 
"An insightful look at what it's like to be young, smart, and deeply confused about friendship and love . . . It's like an Ask Polly letter in the form of a novel, in the best possible way."—The Cut
 
"Rooney expertly captures what it's like to be young today: the conversations flow seamlessly from email to text message to unspoken glance, the sexual and creative confidence, the admiration for older men who write emails written in all lowercase. Her first person narrator, the twenty-one-year-old Frances, is a constant, careful observer, and yet Rooney leaves room for the reader to see all the things Frances herself does not."—The Paris Review
 
"In this searing, insightful debut, Rooney offers an unapologetic perspective on the vagaries of relationships . . . a treatise on married life, the impact of infidelity, the ramifications of one's actions, and how the person one chooses to be with can impact one's individuality. Throughout, Rooney's descriptive eye lends beauty and veracity to this complex and vivid story."—Publishers Weekly (starred review)

"Readers who enjoyed Belinda McKeon's Tender and Caitriona Lally's Eggshells will enjoy this exceptional debut."—Library Journal (starred review)

"A smart, sexy, realistic portrayal of a woman finding herself."—Booklist (starred review)
 
"[Sally] Rooney has managed to take something old, the romance novel, and make it new: Frances is a bisexual communist student, allergic to expressing emotion, and her love affair is with a married man, and yet the book makes no attempt to make a moral stand on fidelity or punish its characters for their passions. The effect is, frankly, riveting, and creates a peculiar sensation of danger. An addictive read."—Rufi Thorpe, author of The Girls from Corona del Mar and Dear Fang, with Love
 
"Sally Rooney's writing is cool, wry, and smooth and gives the reader a sense of being in the lucky position of overhearing not only what fascinating strangers are talking about, but also what they're thinking. I was riveted 'til the last page."—Emily Gould, author of Friendship
We appreciate your continued support!
If you would like to make a donation to help us through CLICK HERE.