Regenesis: How Synthetic Biology Will Reinvent Nature and Ourselves (Paperback)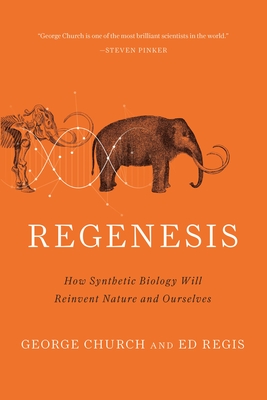 $21.99
This item is not currently available to order.
Description
---
A Harvard biologist and master inventor explores how new biotechnologies will enable us to bring species back from the dead, unlock vast supplies of renewable energy, and extend human life.

In Regenesis, George Church and science writer Ed Regis explore the possibilities of the emerging field of synthetic biology. Synthetic biology, in which living organisms are selectively altered by modifying substantial portions of their genomes, allows for the creation of entirely new species of organisms. These technologies-far from the out-of-control nightmare depicted in science fiction-have the power to improve human and animal health, increase our intelligence, enhance our memory, and even extend our life span. A breathtaking look at the potential of this world-changing technology, Regenesis is nothing less than a guide to the future of life.
About the Author
---
George M. Church is professor of genetics at the Harvard Medical School and member of the Wyss Institute of Biologically Inspired Engineering.

Ed Regis is author of seven science books, most recently What Is Life? Investigating the Nature of Life in the Age of Synthetic Biology.
Praise For…
---
"In Regenesis, a book exploring the science of synthetic biology, George Church and Ed Regis imagine a world where micro-organisms are capable of producing clean petroleum or detecting arsenic in drinking water, where people sport genetic modifications that render their bodies impervious to the flu, or where a synthetic organism can be programmed to invade and destroy cancer cells."
—Wall Street Journal

"[A]n important and surprisingly accessible book, magisterially structured to intertwine the accelerated history of synthetic biology with its precedents in humanity's earlier technological revolutions and in the epochal evolution of life itself. The book packs in a superb short course on life's molecular workings, enabling the reader to grasp how we can actually contemplate resurrecting mammoths and Neanderthals, brewing biofuel from seawater and sunlight, engineering total immunity to viral infection, storing data in DNA, and more."
—The Scientist

"The life sciences emerge as the new high-tech in this paean to synthetic biology.... Each step in the genome's evolution serves as a springboard for expositions of how synthetic biology will revolutionize renewable energy, multivirus resistance, and more."
—Nature

"If you have never
seriously considered resurrecting a species, creating mirror humans or building
a 'reduced instruction set organism,' this will be a wake-up call to the
possibilities inherent in our growing toolkit with the machinery of life."—io9

"Synthetic biology could extend life and even revive extinct species, but as this book reveals, we must face up to the ethical issues it brings, and soon."—New Scientist, Top 10 Science Books of 2012

"Church and Regis in Regenesis have written a wonderful synopsis of the emerging field of synthetic biology and the implications from renewable plastics to 'raising the dead.' This is a must-read for anyone interested in the future."—J. Craig Venter, Chairman and President, J. Craig Venter Institute

"A thoughtful introduction to one of the great frontiers of science, one with the promise of literally saving the world. George Church is one of the most brilliant scientists in the world, and in collaboration with Ed Regis he has written a book that is engaging, readable, and thoroughly fascinating."—Steven Pinker

"Literally reinventing nature could provide solutions to intractable problems with the energy supply, global warming, and human health. In Regenesis, George Church, a pioneer and pre-eminent force in promoting our ability to read DNA sequence, now guides us to the future: writing DNA sequence. Teaming up with Ed Regis, Church provides a mind-bending account of how this revolution will take hold, and how ultimately the survival of our planet and the human species may rely upon rewriting the code of life. An enthralling journey and a phenomenal book."—Eric Topol, author of Deep Medicine

"Here you will find the bleeding, screaming, thrilling edges
of what is becoming possible with genomic engineering, handsomely framed in the
fine-grained fundamentals of molecular biology. It is a combination primer and
forecast of what is coming in this 'century of biology' from the perspective of
a leading pioneer in the science."—Stewart Brand,author of Whole Earth Discipline