Intro Pharmaceutical Chemical (Paperback)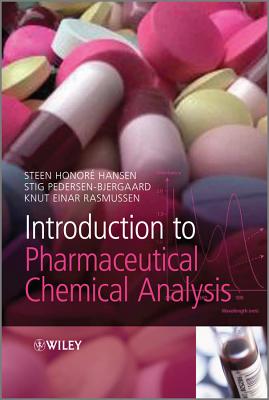 $91.00
This item is not currently available to order.
Description
---
This textbook is the first to present a systematic introduction to chemical analysis of pharmaceutical raw materials, finished pharmaceutical products, and of drugs in biological fluids, which are carried out in pharmaceutical laboratories worldwide.
In addition, this textbook teaches the fundamentals of all the major analytical techniques used in the pharmaceutical laboratory, and teaches the international pharmacopoeias and guidelines of importance for the field. It is primarily intended for the pharmacy student, to teach the requirements in "analytical chemistry" for the 5 years pharmacy curriculum, but the textbook is also intended for analytical chemists moving into the field of pharmaceutical analysis.
Addresses the basic concepts, then establishes the foundations for the common analytical methods that are currently used in the quantitative and qualitative chemical analysis of pharmaceutical drugs
Provides an understanding of common analytical techniques used in all areas of pharmaceutical development
Suitable for a foundation course in chemical and pharmaceutical sciences
Aimed at undergraduate students of degrees in Pharmaceutical Science/Chemistry Analytical Science/Chemistry, Forensic analysis
Includes many illustrative examples
About the Author
---
Steen Hansen is professor in analytical chemistry at the Faculty of Pharmaceutical Sciences at Copenhagen University (Denmark), and has extensive experience in the teaching of analytical chemistry for pharmacy students. His main research interests are in basic separation sciences (primarily HPLC and CE), in particular on separation mechanisms, but also extend into hyphenated techniques using NMR and ICP-MS besides conventional detection techniques. He has authored and/or coauthored more than 240 papers in international peer-review journals. For 20 years, he was the President of the Scandinavian Section of The Chromatographic Discussion Group until this was renamed the Separation Sciences Foundation of which he is President. Knut Einar Rasmussen is professor in pharmacy at the School of Pharmacy at University of Oslo (Norway) and has similarly long experience in teaching of drug analysis for Pharmacy students. He has published extensively and his main research areas are focused on the development of innovative state-of-the-art miniaturized methods in separation science combined with detection and structure determination of drugs, naturally occurring biomolecules/biomarkers and environmental biomarkers. Stig Pedersen-Bjergaard is professor at at the School of Pharmacy, University of Oslo (Oslo, Norway) as well as in 2008, being appointed as full Professor (part time) at Department of Pharmaceutics and Analytical Chemistry, Faculty of Pharmaceutical Sciences, University of Copenhagen (Copenhagen, Denmark). SPB has specialized in analytical micro extraction technologies, on development and applications of artificial liquid membranes, and on electrokinetic separation methods. SPB has published more than 90 papers in international journals, given more than 65 presentations at international symposia, authored 6 patent applications, and is a member of the Editorial board for Analytica Chimica Acta and International Journal of Analytical Chemistry.