The Thinking Hand: Existential and Embodied Wisdom in Architecture (Architectural Design Primer #3) (Paperback)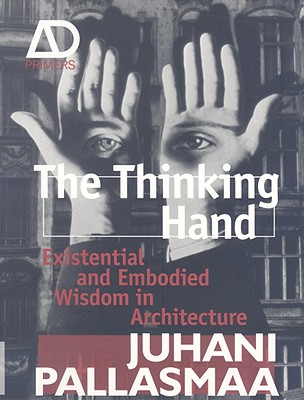 $72.44
This item is not currently available to order.
Description
---
In our current global networked culture that puts so much emphasis on the virtual and the visual, the mind and the body have become detached and ultimately disconnected. Though physical appearance is idolised for its sexual appeal and its social identity, the role of the body in developing a full understanding of the physical world and the human condition has become neglected. The potential of the human body as a knowing entity - with all our senses as well as our entire bodily functions being structured to produce and maintain silent knowledge together - fails to be recognised.
It is only through the unity of mind and body that craftsmanship and artistic work can be fully realised. Even those endeavours that are generally regarded as solely intellectual, such as writing and thinking, depend on this union of mental and manual skills.
In The Thinking Hand, Juhani Pallasmaa reveals the miraculous potential of the human hand. He shows how the pencil in the hand of the artist or architect becomes the bridge between the imagining mind and the emerging image. The book surveys the multiple essences of the hand, its biological evolution and its role in the shaping of culture, highlighting how the hand-tool union and eye-hand-mind fusion are essential for dexterity and how ultimately the body and the senses play a crucial role in memory and creative work. Pallasmaa here continues the exploration begun in his classic work The Eyes of the Skin by further investigating the interplay of emotion and imagination, intelligence and making, theory and life, once again redefining the task of art and architecture through well-grounded human truths.
About the Author
---
Juhani Pallasmaa is one of Finland's most distinguished architects and architectural thinkers. His previous positions include: Rector of the Institute of Industrial Arts, Helsinki; Director of the Museum of Finnish Architecture, Helsinki; and Professor and Dean of the Faculty of Architecture, Helsinki University of Technology. He has also held visiting professorships in several universities internationally. Pallasmaa is the author/editor of 24 books, including The Eyes of the Skin: Architecture and the Senses (Academy, 1995 and John Wiley & Sons, 2005), The Architecture of Image: Existential Space in Cinema (Helsinki, 2001) and Encounters (Helsinki, 2005).