The Jungle Book (Dover Children's Evergreen Classics) (Paperback)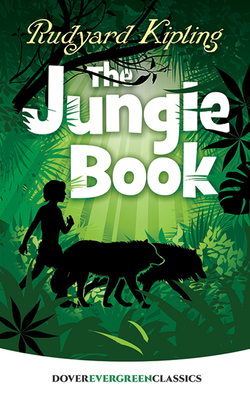 $5.99

Available in our Warehouse: Usually Ships in 3-8 Days
Description
---
Among the most popular children's books ever written, The Jungle Book (1894) comprises a series of stories about Mowgli, a boy raised in the jungle by a family of wolves after a tiger has attacked and driven off his parents. Threatened throughout much of his young life by the dreaded tiger Shere Khan, Mowgli is protected by his adoptive family and learns the lore of the jungle from Baloo, a sleepy brown bear, and Bagheera, the black panther.
Subtle lessons in justice, loyalty, and tribal law pervade these imaginative tales, recounted by a master storyteller with a special talent for entertaining audiences of all ages. Included are such tales as Rikki-tikki-tavi, a story about a brave mongoose and his battle with the deadly cobra Nag; Mowgli's abduction by the monkey people; and Toomai of the Elephants, in which a young boy witnesses a secret ritual and is honored by his tribesmen.
This inexpensive, unabridged edition of The Jungle Book promises to enchant a new generation of young readers, as it recalls to their elders the pleasure of reading or hearing these stories for the first time.
About the Author
---
Nobel Laureate Rudyard Kipling (1865-1936) is best remembered for children's tales such as The Jungle Book as well as his poetry and stories about British soldiers in India, which include Gunga Din and The Man Who Would Be King. Kipling was enormously popular at the turn of the 20th century but his reputation declined with the change in attitude toward British imperialism. In recent years Kipling's works have found new acclaim as a vibrant source of literary and cultural history.