Sunshine Girl: An Unexpected Life (Hardcover)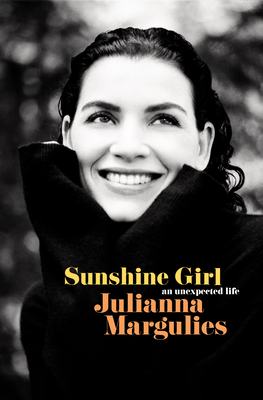 Description
---
Known for her outstanding performances on the groundbreaking television series The Good Wife and ER, Julianna Margulies deftly chronicles her life and her work in this deeply powerful memoir.
 
"At once a tender coming-of-age story and a deeply personal look at a young woman making sense of the world against a chaotic and peripatetic childhood."—Katie Couric

As an apple-cheeked bubbly child, Julianna was bestowed with the family nickname "Sunshine Girl." Shuttled back and forth between her divorced parents, often on different continents, she quickly learned how to be of value to her eccentric mother and her absent father. Raised in fairly unconventional ways in various homes in Paris, England, New York, and New Hampshire, Julianna found that her role among the surrounding turmoil and uncertainty was to comfort those around her, seeking organization among the disorder, making her way in the world as a young adult and eventually an award-winning actress.
 
Throughout, there were complicated relationships, difficult choices, and overwhelming rejections. But there were also the moments where fate, faith, and talent aligned, leading to the unforgettable roles of a lifetime, both professionally and personally—moments when chaos had finally turned to calm.
 
Filled with intimate stories and revelatory moments, Sunshine Girl is at once unflinchingly honest and perceptive. It is a riveting self-portrait of a woman whose resilience in the face of turmoil will leave readers intrigued and inspired.
About the Author
---
As an Emmy, Golden Globe, and Screen Actors Guild award winner, Julianna Margulies has achieved success in television, theater, and film. Margulies starred as Alicia Florrick on the long-running hit CBS show The Good Wife, which she also produced, and is also well known for her role as one of the original cast members of ER. More recently, Margulies has starred on critically acclaimed series including The Morning Show, Billions, and The Hot Zone. She has been involved with Project ALS and Erin's Law and is also a board member of the New York City–based MCC Theater company. She resides in New York City with her husband and son.
Praise For…
---
"Over the course of her illustrious career on screen, Julianna Margulies has played any number of unforgettable characters but as this memoir proves, she might be most fascinating as herself. . . . Not every celebrity autobiography has a truly compelling story to tell, but this one does and tells it with style, humor, and flair."—Town & Country

"Sunshine Girl is a probing, fearless, beautifully written coming-of-age story. The word that comes to mind is 'transcendent.' Julianna Margulies has transcended a complicated childhood, transcended a difficult ten-year relationship, transcended her own demons, transcended fame itself to become whole and wise. I loved this book."—Dani Shapiro, New York Times bestselling author of Inheritance: A Memoir of Genealogy, Paternity, and Love

"It should be no surprise that Julianna writes with the same insight, precision, and kindness with which she imbues the characters she portrays. This book is a revelation. Be prepared to gasp!"—Alan Cumming, New York Times bestselling author of Not My Father's Son: A Memoir

"I read this book in one day and truly loved it. Julianna Margulies's level of introspection is remarkable. Personality and destiny are largely forged from childhood and family, yet few of us are able to weave that journey into a compelling memoir that examines the harder parts of our lives with such honesty. Margulies's engrossing story of the difficulties and nuances of growing up between two households paints a candid but loving portrait of the brutal insecurities of adolescence and the unbreakable bonds of all imperfect families. I rooted for her at every turn, especially during her present chapter."—Lee Woodruff, New York Times bestselling author of In an Instant: A Family's Journey of Love and Healing

"Sunshine Girl is at once a tender coming-of-age story and a deeply personal look at a young woman making sense of the world against a chaotic and peripatetic childhood. We are all so fortunate that Julianna Margulies discovered her passion. You will feel inspired by the way she has lived her life: with grit, grace, and gratitude."—Katie Couric

"[An] intriguing tale . . . This book is more about the strength of the storytelling than the star power of the author. . . . What the author shares and doesn't is deliberate, all offered to advance the fascinating story she wants to tell. It's the mark of a talented storyteller. . . . Margulies's unflinching quest to explain her life makes her well-crafted memoir compelling whether you know her roles or not."—Kirkus Reviews

"[Sunshine Girl is] full of piquant anecdotes . . . and subtle, evocative character studies. . . . The result is an entertaining and revealing portrait."—Publishers Weekly

"[A] thought-provoking and revelatory memoir . . . Though Margulies's anecdotes may be outside readers' own realms of experience, she relates them with such intimacy and candor that readers might recognize in her a kindred spirit. . . . A deeply reflective narrative that will appeal to both Margulies's fans and anyone who enjoys a warm and well-crafted memoir."—Library Journal

"Margulies . . . shares her path to stardom in this frank memoir. . . . Readers looking for salacious Hollywood tales won't find them here; instead Margulies's fans and all readers interested in TV careers will enjoy learning her origin story."—Booklist
We appreciate your continued support!
If you would like to make a donation to help us through CLICK HERE.