Real Life: A Novel (Hardcover)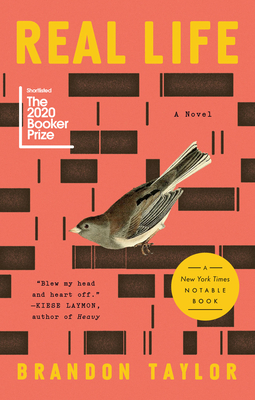 Description
---
A NEW YORK TIMES EDITORS' CHOICE

"A blistering coming of age story" —O: The Oprah Magazine

A novel of startling intimacy, violence, and mercy among friends in a Midwestern university town, from an electric new voice.

Almost everything about Wallace is at odds with the Midwestern university town where he is working uneasily toward a biochem degree. An introverted young man from Alabama, black and queer, he has left behind his family without escaping the long shadows of his childhood. For reasons of self-preservation, Wallace has enforced a wary distance even within his own circle of friends—some dating each other, some dating women, some feigning straightness. But over the course of a late-summer weekend, a series of confrontations with colleagues, and an unexpected encounter with an ostensibly straight, white classmate, conspire to fracture his defenses while exposing long-hidden currents of hostility and desire within their community.  
 
Real Life is a novel of profound and lacerating power, a story that asks if it's ever really possible to overcome our private wounds, and at what cost.
About the Author
---
Brandon Taylor is the senior editor of Electric Literature's Recommended Reading and a staff writer at Lit Hub. He holds graduate degrees from the University of Wisconsin–Madison and the University of Iowa, where he was an Iowa Arts Fellow at the Iowa Writers' Workshop in fiction.





Praise For…
---
"[A] stunning debut . . . Taylor proves himself to be a keen observer of the psychology of not just trauma, but its repercussions. . . . There is a delicacy in the details of working in a lab full of microbes and pipettes that dances across the pages like the feet of a Cunningham dancer: pure, precise poetry." —Jeremy O. Harris, The New York Times Book Review

"Equal parts captivating, erotic, smart and vivid . . . [rendered] with tenderness and complexity, from the first gorgeous sentence of his book to its very last . . . Taylor is also tackling loneliness, desire and—more than anything—finding purpose, meaning and happiness in one's own life." —Time 

"[Real Life is] a sophisticated character study of someone squaring self-preservation with a duty to tolerate people who threaten it. The book teems with passages of transfixing description, and perhaps its greatest asset is the force of Wallace's isolation, which Taylor conveys with alien strangeness." —The New Yorker 

"A blistering coming of age story. . . [Taylor] is so deft at portraying the burdens that befall young queer people of color and the forces that often hamper true connection." —O: The Oprah Magazine

"Brandon Taylor emerges as a powerhouse . . . . In tender, intimate and distinctive writing, Taylor explores race, sexuality and desire with a cast of unforgettable characters." —Newsweek

"Both calm and quiet and furiously dramatic, internal and external, Real Life moves like, well, real life—but with a key difference. Real life itself can be super boring. But Real Life . . . is utterly captivating all the way through."  —Isaac Fitzgerald, The Today Show

"Shattering." —Elle

"A novel of quiet, startling power." —Harper's Bazaar 

"Real Life asks questions many of us shy from: Who is entitled to pain? How useful is an apology? Can sharing our feelings free us from them? . . . Amid the flurry of new novels drifting down like so many balloons, Real Life is the one weighted with confetti."  —The Paris Review

"Taylor brings the precision of a scientist to his descriptions of Wallace's desires and defenses. . . . [capturing] the ennui of those caught between the lure and the loneliness of academic science, trapped in an existence that doesn't qualify as a 'real life.'" —Forbes

"Astounding." —LA Review of Books

"[Taylor] is as keen an observer as his subject is, and he writes with extraordinary precision: about the academy, and queerness, and race, and trauma, and ambivalent friendship, and desire. About all the things that, put together, make up something approaching real life."  —Constance Grady, Vox

"Real Life poignantly illustrates the dissonance of not feeling accepted or understood at an institution that aggressively markets itself as immaculately progressive." —The Guardian

"As a stylist Taylor has, sentence by sentence, crafted an experience of bone-deep pleasure for the reader that stands not at odds with the melancholy of the tone of Wallace's story but in loving support of it. The penultimate chapter alone is a knockout, and its end would have been a magnificent closing for the book had the actual final sentence, a few pages later, not surpassed it." —Salon

"The best portrayal of an introvert's inner and outer life in recent memory. With smooth prose and a deeply nuanced protagonist, Real Life is one of those timeless stories that also perfectly captures a generational moment." —LitHub 

"Just as Sally Rooney's second novel perfectly captures the intimacies of a young relationship, Brandon Taylor's provocative debut tests the boundaries put in place by a queer, black graduate student." —Bookpage

"Taylor is a writer who really gets the indignities of inhabiting a human body, how the physical is so intimately tied to the emotional. . . . Wallace is a heady mix of judgmental and vulnerable, and it's hard not to root for him even if he decides to blow his life up." —Vulture

"Brandon Taylor's long-anticipated debut novel tackles timely issues while introducing a compelling protagonist who will stick with you long after the final page." —Paste

"One of those books that perfectly captures a generational moment while also feeling timeless." —Sarah Neilson, Them

"Taylor's perceptive, challenging exploration of the many kinds of emotional costs will resonate with readers looking for complex characters and rich prose." —Publishers Weekly

"Breathlessly physical . . . steadily exciting and affecting . . . [a] charged experience." —Booklist (starred review)

"There is writing so exceptional, so intricately crafted that it demands reverence. The intimate prose of Brandon Taylor's exquisite debut novel, Real Life, offers exactly that kind of writing. He writes so powerfully about so many things—the perils of graduate education, blackness in a predominantly white setting, loneliness, desire, trauma, need. Wallace, the man at the center of this novel, is written with nuance and tenderness and complexity. . . . Truly, this is stunning work from a writer who wields his craft in absolutely unforgettable ways."  —Roxane Gay

"The affections and disaffections of grad school life are shot through with the searing experience of white racial presumption and blindness in Brandon Taylor's vivid and exacting Real Life."  —Adam Haslett

"This book blew my head and heart off. For a debut novelist to disentangle and rebraid intimacy, terror, and joy this finely seems like a myth. But that, and so much more, is what Brandon Taylor has done in Real Life. The future of the novel is here and Brandon Taylor is that future's name."
—Kiese Laymon

"Real Life is a gorgeous work of art, and the introduction of a singular new voice. Through Wallace, the book explores the tension of a person trying to become himself while surrounded by people who can see him only as their own projection. Even as Brandon Taylor dives beneath the level of polite surface interaction and into the ache of what people conceal from one another, or reveal only as weaponry, his sharply rendered observations make it a true pleasure to spend time in this book's world."
—Danielle Evans

"Real Life is one of the finest fiction debuts I've read in the last decade—elegant and brutal, handled by an author whose attention to the heart is unlike any other's. A magnificent novel."
—Esmé Weijun Wang

 "A few summer days, a group of friends, a difficult intimacy—with the simplest materials, Real Life reveals the knives we pocket in good intentions, our constant, communal sabotage of love. Brandon Taylor's genius lies in the elaboration of ever more revelatory gradations of feeling; in his extraordinary debut he invents new tools for navigating the human dark in which we know one another. He is a brilliant writer, and this is a beautiful book." 
—Garth Greenwell
We appreciate your continued support!
If you would like to make a donation to help us through CLICK HERE.