The Phoenicia Diner Cookbook: Dishes and Dispatches from the Catskill Mountains (Hardcover)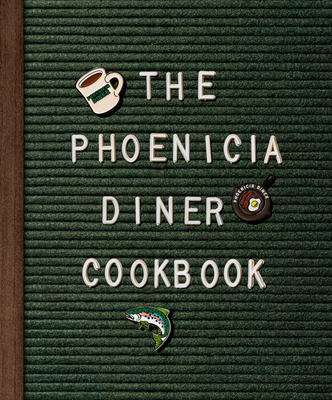 Description
---
85 comfort food recipes, including classic Americana dishes and reimagined favorites, from the celebrated Phoenicia Diner in New York's idyllic Catskill mountains

Whether you're a local or just passing through, the revamped Phoenicia Diner is an irresistible must-stop in the region, beloved for its honest cooking that seamlessly combines the best of the classics (Classic Buttermilk Pancakes, Chicken with Chive-Buttermilk Dumplings) with the multifaceted way we love to eat today (Chile-Braised Lamb Tostadas, Cider-Braised Duck and Grits). In the Phoenicia Diner Cookbook, you'll find a roster of approachable, soulful dishes that are deeply delicious and full of life-satisfying abundance. "All Day Breakfast" recipes like a Twice-Baked Potato Skillet and gold standards with a twist, such as Roasted Chicken with Tarragon-Honey Glazed Carrots, are complemented by rich essays on the region's fascinating history and the revival that defines it today, creating an evocative love letter to both the area and disappearing diners everywhere.
About the Author
---
Mike Cioffi is the creator and visionary behind the Phoenicia Diner. After a thirty-year career building scenery for television and Broadway shows, he became interested in the restaurant world and in 2012 he and his family took a leap of faith when the Diner opened its doors.

Co-author Sara B. Franklin is a writer and a professor of food culture and history at NYU's Gallatin School for Individualized Study and the NYU Prison Education Program. She lives with her family in the Hudson Valley.

Chef Chris Bradley spent two decades cooking in some of the most renowned restaurants in New York and Washington, D.C., before moving to Upstate New York. He now lives with his family in the Hudson Valley.
Praise For…
---
"The smell of bacon. The sight of pancakes growing golden on a griddle. The sound of gentle conversation at a long counter. If there is a place where just about anyone in this fractured country would feel at home, it's in a roadside diner, and if you wanted to dream up the ideal version of such a roadside refuge, it would look and sound and smell a lot like the Phoenicia Diner. From Brunswick stew to biscuits and gravy to 'shrooms on a shingle, this book brings all of those sensory comforts to life on every gleaming page. This book might just save America."—Jeff Gordinier, author of Hungry: Eating, Road-Tripping, and Risking It All with the Greatest Chef in the World

"If there's a sight in the Hudson Valley more soothing, more full of familiar promise than the globe lights shining beacon-bright through Phoenicia Diner's windows in the late afternoon, I just don't know it. In the embrace of the Diner's vinyl booths, I have stomped snow from the treads of my boots between bites of Salisbury steak, shared a late-August milkshake with a new love, welcomed in birthdays with pancakes and fat onion rings. The Diner's rare knack for nudging nostalgia into a modern context is what makes it so special, and it's all over this book: 272 pages of a gorgeous, inclusive, golden-yolked American Dream, where chilaquiles and Brunswick stew and patty melts and meatballs are all welcome and all make perfect sense. The Diner will make short-order cooks out of all of us, and in the end, that's a very good thing."—Jordana Rothman, restaurant editor-at-large, Food & Wine

"A really good diner becomes the heart of its community, and Phoenicia Diner is a great one—serving up hearty and delicious food from people who are happy to see you, and a sense of abundance that feels like home, whether you're a local or just passing through." —Danny Meyer, CEO of Union Square Hospitality Group and founder of Shake Shack

"The Phoenicia Diner Cookbook, like the restaurant itself, seamlessly mingles classic expectations with dishes that reflect the way we cook and eat today. Buttermilk pancakes coexist with steak chilaquiles; pimento cheese patty melts with pork belly BLTs; and lemon-meringue pie with autumn harvest muffins. How do they get along between the covers of the same book? Because they all meet the essential criteria of great diner food, delivering big, smile-inducing flavors that make you want to stop and pull over every time you drive by or, in this case, spot it on your bookshelf."—Andrew Friedman, author of Chefs, Drugs, and Rock & Roll and host of Andrew Talks to Chefs

"The Phoenicia Diner has been a beacon for me and my band of road warriors looking for good food. It is everything you want in a modern/vintage diner that is very, very hard to find these days—honest cooking with good local ingredients. A perfect dream sequence of the American road food dream."—Andrew Carmellini, owner and chef, Locanda Verde and The Dutch

"When you eat at the Phoenicia Diner you can feel the heartbeat of the Catskills, fully surrounded by mountains with a menu full of soulful diner classics. The first time I visited was the middle of winter—a quiet February afternoon, snow falling outside, hot coffee and pancakes inside—nowhere I would have rather been."—Elise Kornack, chef and restaurateur, Take Root

"The first time my wife and I rolled into the Phoenicia Diner, we knew they were doing something special—from the energy in the space, the incredible hospitality offered the second we walked in and, ultimately, the delicious nostalgic food. We were supporters from day one and have been rooting the team on ever since."—Michael Chernow, restaurateur, Seamore's, WellWell, and The Meatball Shop
We appreciate your continued support!
If you would like to make a donation to help us through CLICK HERE.