Antitrust: Taking on Monopoly Power from the Gilded Age to the Digital Age (Hardcover)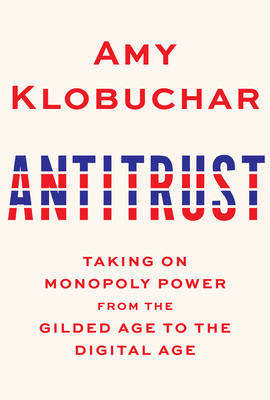 Description
---
NY TIMES NATIONAL BEST SELLER

Antitrust enforcement is one of the most pressing issues facing America today—and Amy Klobuchar, the widely respected senior senator from Minnesota, is leading the charge. This fascinating history of the antitrust movement shows us what led to the present moment and offers achievable solutions to prevent monopolies, promote business competition, and encourage innovation.

In a world where Google reportedly controls 90 percent of the search engine market and Big Pharma's drug price hikes impact healthcare accessibility, monopolies can hurt consumers and cause marketplace stagnation. Klobuchar—the much-admired former candidate for president of the United States—argues for swift, sweeping reform in economic, legislative, social welfare, and human rights policies, and describes plans, ideas, and legislative proposals designed to strengthen antitrust laws and antitrust enforcement.

Klobuchar writes of the historic and current fights against monopolies in America, from Standard Oil and the Sherman Anti-Trust Act to the Progressive Era's trust-busters; from the breakup of Ma Bell (formerly the world's biggest company and largest private telephone system) to the pricing monopoly of Big Pharma and the future of the giant tech companies like Facebook, Amazon, and Google.

She begins with the Gilded Age (1870s-1900), when builders of fortunes and rapacious robber barons such as J. P. Morgan, John Rockefeller, and Cornelius Vanderbilt were reaping vast fortunes as industrialization swept across the American landscape, with the rich getting vastly richer and the poor, poorer. She discusses President Theodore Roosevelt, who, during the Progressive Era (1890s-1920), "busted" the trusts, breaking up monopolies; the Clayton Act of 1914; the Federal Trade Commission Act of 1914; and the Celler-Kefauver Act of 1950, which it strengthened the Clayton Act. She explores today's Big Pharma and its price-gouging; and tech, television, content, and agriculture communities and how a marketplace with few players, or one in which one company dominates distribution, can hurt consumer prices and stifle innovation.

As the ranking member of the Senate Judiciary Subcommittee on Antitrust, Competition Policy, and Consumer Rights, Klobuchar provides a fascinating exploration of antitrust in America and offers a way forward to protect all Americans from the dangers of curtailed competition, and from vast information gathering, through monopolies.
About the Author
---
AMY KLOBUCHAR is the senior senator from Minnesota, the first woman from that state to be elected to the U.S. Senate. She was born in Plymouth, Minnesota, and graduated from Yale University and the University of Chicago Law School. She lives in Minneapolis, MN.
Praise For…
---
"An impressive work of scholarship, deeply researched . . . highly informative and surprisingly readable in the bargain."—Liaquat Ahamed, The New York Times Book Review
 
"Senators rarely write books, and when they do, they tend to be political memoirs. But Klobuchar's Antitrust is a serious and important contribution that will help build momentum for reform . . . Throughout, she references her own proposed legislation on the topic. And as Klobuchar is chair of the Judiciary Committee's subcommittee on competition policy, antitrust, and consumer rights, her proposals are likely to be one of the starting points for reform."—The New Republic
 
"Methodical . . . Klobuchar furnishes an overview of the evolution of U.S. anti-monopoly law and a call for rebalancing the relationship between capital and labor. She condemns corporate consolidation and wealth concentration, and views lax antitrust enforcement as antithetical to democracy."—The Guardian

"A thorough history of trustbusting in America and an urgent plea for stricter enforcement . . . a diligently researched history lesson and a well thought out plan, meticulously delineated . . . staggeringly detailed . . . solid, sharp, articulate work."—Kirkus (starred review)
 
"Klobuchar reviews past monopolies, starting with a certain tea party, and continuing through the Gilded Age and the Sherman Act to current day, providing plenty of social, political, and legislative context . . . She argues for swift, sweeping reform in economic, legislative, social welfare, and human rights policies. A steady stream of period political cartoons help keep things lively, and her style is engaging and energetic."—Booklist (starred review)
We appreciate your continued support!
If you would like to make a donation to help us through CLICK HERE.