Bats in the Band (A Bat Book) (Hardcover)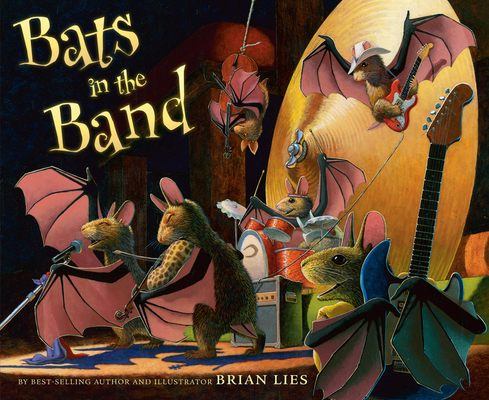 $17.99
This item is not currently available to order.
Description
---
The look on our faces is easy to read: a little night music is just what we need!
A late-spring night sky fills with bats flocking to a theater, already echoing and booming with delightful sounds of music. Bat music—plunky banjoes, bat-a-tat drums, improvised instruments, country ballads, and the sweet cries of a bat with the blues.
Join this one-of-a-kind music festival as the bats celebrate the rhythm of the night, and the positive power of music. Brian Lies's newest celebration of bats and their dazzling, dizzying world will lift everyone's spirits with joyous noise and cheer!
About the Author
---
Brian Lies is the Caldecott honor-winning author-illustrator of New York Times bestsellers Bats at the Beach, Bats at the Library, Bats at the Ballgame, and Bats in the Band. He has written and illustrated more than twenty books for children. Born in Princeton, New Jersey, Brian lives on the South Shore of Massachusetts with his family.
www.BrianLies.com 
Brian Lies is the Caldecott honor-winning author-illustrator of New York Times bestsellers Bats at the Beach, Bats at the Library, Bats at the Ballgame, and Bats in the Band. He has written and illustrated more than twenty books for children. Born in Princeton, New Jersey, Brian lives on the South Shore of Massachusetts with his family.
www.BrianLies.com 
Praise For…
---
"Again with the bats, evoking another call of "encore!"
—Kirkus

"This latest adventure will enchant children, who will want to hear it, read it, and relive it over and over again."
—School Library Journal —