Bellweather Rhapsody (Hardcover)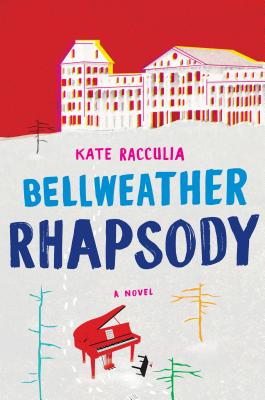 $25.00
Email or call for price.
Staff Reviews
---
This madcap novel is Glee meets The Shining - an improbable combination that makes for a hilarious & suspenseful read.
— Suzanna
Description
---
"For its darkness and its glee, I loved this novel."  —Robin Sloan, author of Mr. Penumbra's 24-Hour BookstoreA high school music festival goes awry when a young prodigy disappears from the most infamous room in the Bellweather Hotel, in a whip-smart novel sparkling with dark and giddy humorFifteen years ago, a murder-suicide in room 712 rocked the grand old Bellweather Hotel and the young bridesmaid who witnessed it, Minnie Graves. Now hundreds of high school musicians, including quiet bassoonist Rabbit Hatmaker and his brassy diva twin, Alice, have gathered in its cavernous, crumbling halls for the annual Statewide festival; Minnie has returned to face her demons; and a colossal snowstorm is threatening to trap them all in the hotel. Then Alice's roommate goes missing—from room 712. The search for her entwines an eccentric cast of characters: conductors and caretakers, failures and stars, teenagers on the verge and adults trapped in memories. For everyone has come to the Bellweather with a secret, and everyone is haunted.Bellweather Rhapsody is a genre-bending page-turner, full of knowing nods to pop culture classics from The Shining to Agatha Christie to Glee. But its pleasures are beautifully deepened by Kate Racculia's skill with her characters, her melancholy, affecting writing about music, and her fearlessness about the loss and darkness that underline the truest humor. This is a wholly winning new novel from a writer to watch.
About the Author
---
KATE RACCULIA is the author of the novels This Must Be the Place and Bellweather Rhapsody, winner of the American Library Association's Alex Award. She received her MFA from Emerson College and now works for the Bethlehem Area Public Library in Pennsylvania. You can find her at www.kateracculia.com or @kateracculia.
Praise For…
---
"Delightfully odd...Racculia, clearly a fan of Agatha Christie, stuffs the Bellweather with a fine cast of misfits and dreamers and foes...The pleasures of this great yarn are not just its full heart but its clever head.A" —Entertainment Weekly, Grade: A
"Warm, entertaining and thoughtful, and a glorious celebration of music...Fans of Racculia's first book, This Must Be the Place, will recognize her quirky style and her great affection for her oddball characters." —Minneapolis Star-Tribune

"A rollicking story...Racculia's exuberant voice inspires laugh-out loud moments while also bringing to life broken people who find solace in each other's heartaches...[Bellweather Rhapsody] hits all of the right notes for a darkly awesome summer read." —Wisconsin State Journal
"An entertaining and enthralling yarn...This is the stuff that dreams and nightmares are made of: what one is willing to go through – or not go through – when you're infused with a dazzling talent." —PopMatters
"Bellweather Rhapsody is funny and exuberant, twisty and captivating. Racculia tells the truth here, about art and life and the many trajectories that talent can take. She's also written the most resonant descriptions of music—how it really works in the head and the heart—that I've ever read. For its darkness and its glee, I loved this novel."  —Robin Sloan, author of Mr. Penumbra's 24-Hour Bookstore
"Witty and smartly moving, Kate Racculia's Bellweather Rhapsody offers a heart-thumping mystery of music and murder, wherein the past repeats itself, and in doing so becomes malleable again: just as an orchestral score can be rearranged to new effect, so an unsolved crime sometimes returns to shock and surprise anew—and in both cases the outcomes are as unpredictable as they are suspenseful." —Matt Bell, author of In the House upon the Dirt between the Lake and the Woods

"[A] deft mix of horror, high school drama, locked-door mystery (or, rather, locked-hotel mystery), twin-seeking-twin closeness, adult (and teen!) romance, and some truly adult violence and guilt. At its heart, Bellweather Rhapsody as about talent: what it means to have it, what it means to lose it (if that's possible), how on earth you're supposed to wield a magic you can barely understand before you're even old enough to drive, and what kind of adult you might turn out to be if you fail." —Book Riot
"This rich brew of a novel from Racculia (This Must Be the Place) mixes together murder, music, and eccentric humor. In 1982, in Clinton's Kill, N.Y., a new bride murdered her husband, then killed herself, shortly after checking into Room 712 of the Bellweather Hotel. In 1997, high school drama queen Alice Hatmaker checks into the same room to perform at the statewide music festival, along with her talented twin brother, Rabbit. Alice's roommate is virtuoso flautist Jill Faccelli, whose overbearing mother, Viola Fabian, runs the festival. As a snow storm looms, Alice finds Jill hanged in one of the rooms. But when she returns with help, the body is missing, replaced by a note reading, "NOW SHE IS MINE." Only Minnie Graves, who witnessed the original murder-suicide when she was 10 and has returned to the hotel as a young woman to confront her demons, believes Alice's story. Together, she and Alice try to find out what happened to Jill. Racculia thus sets the stage for a novel of dueling wills, marked by textured characterization and an ebullient storytelling style." —Publishers Weekly, STARRED review
"Racculia (This Must Be the Place, 2010) delivers an experience worth rhapsodizing about as a group of teenagers and their adult chaperones descend upon a hotel in the Catskills for a statewide music festival. . . . Racculia's droll wit and keen understanding of human nature propel a story that's rich in distinctive characters and wholly engaging. A gem."--Kirkus, STARRED review
"Part ghost story, part mystery, part coming-of-age tale, and part love sonnet to music, Racculia's second novel (after This Must Be the Place) is dark and delightful, with memorable characters inspired by both literature and pop culture. It will grab readers and keep them with multilayered plotting and writing that ranges from humorous to poetic."--Library Journal, Starred review
"A musical mystery that strikes nary a false note. Encore, encore."--Booklist