Milo Speck, Accidental Agent (Hardcover)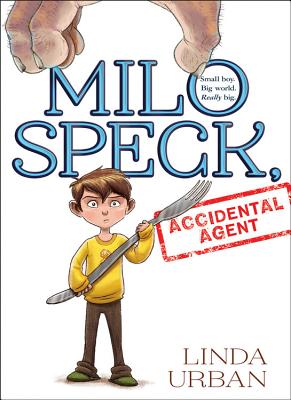 Email us for price & availability: info@oblongbooks.com
Special Order - Subject to Availability
Description
---
When magic came to Milo Speck, it came in the form of a sock. "Figures," said Milo. 
So begins Milo's adventure in Ogregon, a place populated with hungry ogres, dino-sized turkeys, kidnapped kids, and—Dad? What's Milo's regular-old salesman father doing in Ogregon? For that matter, how did a shrimp like Milo end up there? He's no hero. He can't help those kids. Right? But there's no time for Milo to get the answers. After all, hungry ogres like nothing more than a tasty bite of boy, and what kid is going to stick around for that? A fast escape back home to Downriver is all that matters—until Milo realizes that what's really afoot in Ogregon goes far beyond an ogre quest for snack food. And his own family may be somehow mixed up in the dastardly plot. But what can a small boy in a very big world possibly do about that?
 
About the Author
---
Linda Urban's debut novel, A Crooked Kind of Perfect, was selected for many best books lists and was nominated for twenty state awards. She is also the author of Hound Dog True, The Center of Everything, Milo Speck, Accidental Agent, and the chapter book Weekends with Max and His Dad, which received two starred reviews. A former bookseller, she lives in Vermont. Visit Linda online at lindaurbanbooks.com and on Twitter at @lindaurbanbooks.
Praise For…
---
"Inventive, funny, and flat-out delightful. An absolute joy."
—Rebecca Stead, Newbery Medalist for When You Reach Me
 
"Reading Linda Urban's Milo Speck, Accidental Agent, is like encountering again the dangerous hilarity of Roald Dahl, the quick playfulness of Jules Feiffer, and the poignant heart of Jean Merrill. The adventures are madcap, the language funny as all get out, the villains horrendously evil—as they should be. But what is most wonderful of all is the story of how a tiny speck of a boy grows into his truest self—a self neither he nor the reader had ever anticipated."
—Gary Schmidt, Newbery Honor winner and National Book Award finalist
 
"With the ingenious, witty, and utterly delightful Milo Speck, Accidental Agent, Linda Urban has given us a contemporary masterpiece. This book is a joy."
–Anne Ursu, author of The Real Boy and Breadcrumbs
 
"Milo is a well-detailed character with a strong moral code, making him easy to root for."
—Kirkus
 
"Clever humor and daring rescues will keep readers glued to Milo's adventures and hoping for future ones."
—Publishers Weekly
 
"Humor and action abound in this fast-paced adventure with plenty of twists and turns to keep readers interested...An entertaining choice."
—School Library Journal
 
"Urban spins a tale both comical and surreal."
—Booklist
 
"Milo finds his inner hero in a hectic and hilarious series of revelations, chase scenes, and near-death experiences...Urban gives nods to Roald Dahl, Edward Eager, and Norton Juster, but her material is unique...You can't beat the premise."
—Horn Book Magazine