Charlie, Presumed Dead (Paperback)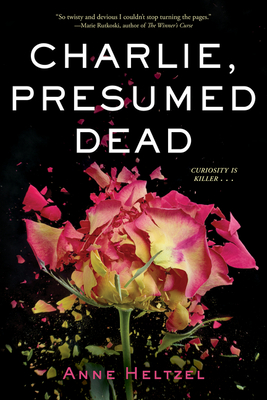 $9.89
This item is not currently available to order.
Description
---
In Paris, family and friends gather to mourn the tragic passing of Charlie Price—young, handsome, charming, a world-traveler—who is presumed dead after an explosion. Authorities find only a bloodied jacket, ID'd as Charlie's. At the funeral, two teens who are perfect strangers, Lena Whitney and Aubrey Boroughs, make another shocking discovery: they have both been dating Charlie, both think Charlie loved them and them alone, and there is a lot they didn't know about their boyfriend. Over the next week, a mind-bending trip unfolds: first in London—then in Mumbai, Kerala, and Bangkok, the girls go in search of Charlie. Is he still alive? What did their love for him even mean? The truth is out there, but soon it becomes clear that the girls are harboring secrets of their own. 
No one knows whom to trust in this thrilling tale of suspense and deception.
About the Author
---
Anne Heltzel was born in Ohio and earned her MFA from the New School. She's written two other novels: Circle Nine and The Ruining (published under Anna Collomore). Anne is a book editor who lives in Brooklyn. Visit her website at www.anneheltzel.com.
Praise For…
---
"If the perfect summer book makes your heart race and your pulse pound, we've got some page-turners for you." —Entertainment Weekly's 10 Great Thrillers for Your Beach Reading List   "A trippy, globetrotting mysterious adventure, this is a twisty and fun read." —RT Book Reviews   "Like Amelia Anne Is Dead and Gone, the characters are not who they seem; like We Were Liars, the truth is masked by delusion." —BookPage   "A compelling read, one that will provoke adventure-lust, a need to experience the strange, the fearful, and the unknown." —Boston Globe "A creepy, thrilling tangled web of book. I couldn't put it down. Anne Heltzel has written two bold, complicated young women as they embark on an adventure through Europe and Asia, unraveling the disappearance of their shared boyfriend, Charlie (presumed dead). Their mystery is everybody's mystery at some point, whether we like it or not: Who is this person I'm dating and what are they hiding?" —David Iserson, author of Firecracker "Buckle in tight. Charlie, Presumed Dead is a mystery wrapped in a puzzle strapped in a roller coaster. Full of compelling characters and exotic settings, this dark and twisty thrill ride kept me up late and kept me guessing." —Fiona Paul, author of the Eternal Rose trilogy "So twisty and devious that I couldn't stop turning the pages, Charlie Presumed Dead is also a story with heart. I was fascinated by the unfolding of an unlikely friendship between two very different young women who become a force to be reckoned with. I loved it." —Marie Rutkoski, author of The Winner's Curse "An edgy thriller that keeps the guesses coming until the last word." —Kirkus "As the layers of each character's duplicity are carefully revealed, the unearthing of blackmail, revenge, red herrings, and more makes for a thrilling and immersive tale of manipulation as wily as Charlie himself." —Publishers Weekly "Travel descriptions and fast-paced writing sprinkled with intrigue and horror spin this story forward at an enjoyable pace. Teen suspense fans will be satisfied with the Gone Girl–esque feeling of the work." —School Library Journal "Teens shouldn't come here looking for a happy ending or even justice delivered but for a creepy race toward a bone-wracking shudder." —Bulletin   —