The Fearless Baker: Simple Secrets for Baking Like a Pro (Hardcover)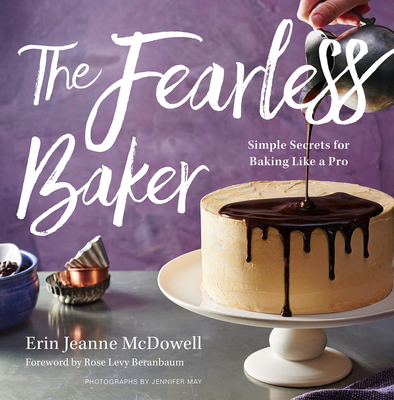 $30.00

Available in our Warehouse: Usually Ships in 3-8 Days
Description
---
One of Food52's most popular columnists and a New York Times bestselling author, top food stylist Erin Jeanne McDowell shares her baking secrets and the science behind them
"Erin's fierce understanding of the science of baking makes her one of the most trustworthy bakers that I know. But what's even more special is that she does it all with the exact kind of friendliness and warmth that you want when you're about to tackle laminated dough or French macarons for the first time. The recipes here are as encouraging and thorough as they beautiful and delicious. This book is an absolute must-have for bakers of all levels." —Molly Yeh, author and blogger, My Name Is Yeh"
When people see Erin McDowell frost a perfect layer cake, weave a lattice pie crust, or pull a rich loaf of brioche from the oven, they often act as though she's performed culinary magic. "I'm not a baker," they tell her. But in fact, expert baking is not at all unattainable, nor is it as inflexible as most people assume. The key to freedom is to understand the principles behind how ingredients interact and how classic methods work. Once these concepts are mastered, favorite recipes can be altered and personalized almost endlessly.
With the assurance born out of years of experience, McDowell shares insider tips and techniques that make desserts taste as good as they look. With recipes from flourless cocoa cookies and strawberry-filled popovers (easy), through apple cider pie and black-bottom crème brûlée (medium), to a statuesque layer cake crowned with caramelized popcorn (difficult), and "Why It Works," "Pro Tip," and make-ahead sidebars with each recipe, this exciting, carefully curated collection will appeal to beginning and experienced bakers alike.
About the Author
---
 ERIN JEANNE MCDOWELL is an author, recipe developer, and award-winning food stylist with specialized focus in baking. Her first book, The Fearless Baker, was named one of the Best Baking Books of 2017 by The New York Times. She's a regular contributor to New York Times Cooking, Food52 (where she also serves as Baking Consultant at Large), and PureWow. She hosts weekly baking classes on Food Network Kitchen and the series "Bake It Up a Notch" for Food52. Erin has been featured in The New Yorker, New York Magazine, Food and Wine Magazine, Food Network Magazine, and Rachel Ray Magazine. Her work has appeared in The New York Times, The Washington Post, Better Homes and Gardens Magazine, Fine Cooking Magazine, Bake From Scratch Magazine, and Sift Magazine. She lives and works in North Bergen, New Jersey. 
Praise For…
---
"It is inspiring to see the fine and exciting work of this prize representative of a new generation of bakers."   — Rose Levy Beranbaum, author of The Baking Bible 
"For years we've been the beneficiaries of the sky-high cakes and dreamy pies Erin has whipped up for Food52, and we're so delighted she's sharing her baking gifts in The Fearless Baker. Her six-layer Dame's Rocket Cake and diagonal lattice crust are in our future!"   — Amanda Hesser and Merrill Stubbs, cofounders of Food52 
"This book is not only a shortcut on the road to fearlessness, but also a plainly spoken guide to why ingredients do what they do, alongside a very welcome kitchen pep talk. All the tools to lend a good amount of confidence in the kitchen, plus Salted Caramel besides!" — Joy Wilson, author and blogger, Joy the Baker  
Erin's fierce understanding of the science of baking makes her one of the most trustworthy bakers that I know. But what's even more special is that she does it all with the exact kind of friendliness and warmth that you want when you're about to tackle laminated dough or French macarons for the first time. The recipes here are as encouraging and thorough as they beautiful and delicious. This book is an absolute must-have for bakers of all levels."     — Molly Yeh, author and blogger, My Name Is Yeh