Unstoppable: True Stories of Amazing Bionic Animals (Hardcover)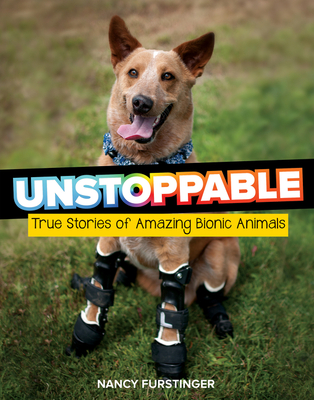 Description
---
Chris P. Bacon was born with malformed legs, but with the help of a wheelchair made of construction toys, he's become a hero to people with similar challenges.
Nancy Furstinger profiles Chris P. Bacon and many other animals in
Unstoppable
—all of whom are making their way around with the help of prosthetics, braces, orthotics and wheelchairs! Readers will meet the caretakers, prosthetists, vets, and loving families that help to make recovery possible. Furstinger offers a glimpse into the cutting-edge technologies, such as 3D printing and brain-controlled prosthetics, that are helping to improve the lives of animals and humans alike. 
About the Author
---
Nancy Furstinger has been speaking up for animals since she learned to talk, and she hasn't shut up yet. She is the author of nearly 100 books, including many on her favorite topic: animals! She started her writing career in third grade, when her class performed a play she wrote while recovering from chicken pox. Since then, Nancy has been a feature writer for a daily newspaper, a managing editor of trade and consumer magazines, and an editor at two children's book publishing houses. She shares her home with big dogs, house rabbits, and a chinchilla (all rescued), and volunteers with several animal organizations. Visit her website at
www.nancyfurstinger.com
Praise For…
---
"There's no way a book this adorable will stay on the shelves, which is fitting considering it's about animals on the move—disabled animals to be exact...Numerous STEM connections, from the prosthetics' designs, the shared advances between veterinary and human medicine, and a page devoted to low-tech solutions, such as PVC-pipe walkers and a skateboard-scooting tortoise. Inspiring and heartwarming."  —Booklist

"This book is sure to appeal to animal lovers and future veterinarians. A must-have for nonfiction shelves." –School Library Journal

"…Entertaining and enlightening to read." –Kirkus
We appreciate your continued support!
If you would like to make a donation to help us through CLICK HERE.