Dark Life (Paperback)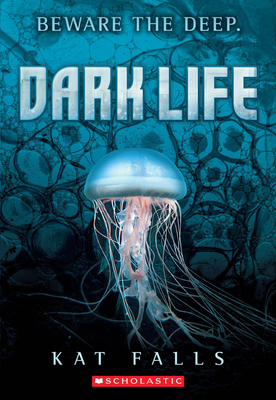 $9.99

Available in our Warehouse: Usually Ships in 3-8 Days
Other Books in Series
This is book number 1 in the Dark Life series.
Description
---
Dive deep into the vivid underwater world of Dark Life!The oceans rose, swallowing the lowlands. Earthquakes shattered the continents, toppling entire regions into the rising water. Now, humans live packed into stack cities. The only ones with any space of their own are those who live on the ocean floor: the Dark Life.Ty has spent his whole life living deep undersea. When outlaws attack his homestead, he finds himself in a fight to save the only home he has ever known. Joined by Gemma, a girl from Topside, Ty ventures into the frontier's rough underworld and discovers some dark secrets to Dark Life. Secrets that threaten to destroy everything.
About the Author
---
Kat Falls is the author of Inhuman, Dark Life, and Rip Tide. A graduate of Rensselaer Polytechnic Institute, she holds an MFA in screenwriting from Northwestern University, where she now teaches. She lives in Illinois with her husband and three children.
Praise For…
---
"[T]here's no denying the nifty premise, solid characterization, and tense moments that contribute to a cinematic reading experience. Falls's undersea world warrants further exploration."--Publishers Weekly"Falls creates an interesting reality in her new novel. . . . Based on the young ages of the characters, this book will appeal to middle grade readers, who will enjoy the novel's mystery and suspense. It is a definite must-read for SF fans."--Voice of Youth Advocates"A Western . . . with plankton instead of cows, harpoons instead of six-shooters and submarines instead of covered wagons . . . and a few plot twists keep the tension high. A thrilling conversion of the classics to one of our newer frontiers."--Kirkus Reviews"[T]he exotic setting and well-conceived details about undersea living, along with likable characters and a minor surprise at the end, will keep readers turning the pages."--Booklist

""[T]here's no denying the nifty premise, solid characterization, and tense moments that contribute to a cinematic reading experience. Falls's undersea world warrants further exploration."" -Publishers Weekly

""Falls creates an interesting reality in her new novel. . . . Based on the young ages of the characters, this book will appeal to middle grade readers, who will enjoy the novel's mystery and suspense. It is a definite must-read for SF fans."" -Voice of Youth Advocates

""A Western . . . with plankton instead of cows, harpoons instead of six-shooters and submarines instead of covered wagons . . . and a few plot twists keep the tension high. A thrilling conversion of the classics to one of our newer frontiers."" -Kirkus Reviews

""[T]he exotic setting and well-conceived details about undersea living, along with likable characters and a minor surprise at the end, will keep readers turning the pages."" -Booklist

"[T]here's no denying the nifty premise, solid characterization, and tense moments that contribute to a cinematic reading experience. Falls's undersea world warrants further exploration."--Publishers Weekly"Falls creates an interesting reality in her new novel. . . . Based on the young ages of the characters, this book will appeal to middle grade readers, who will enjoy the novel's mystery and suspense. It is a definite must-read for SF fans."--Voice of Youth Advocates"A Western . . . with plankton instead of cows, harpoons instead of six-shooters and submarines instead of covered wagons . . . and a few plot twists keep the tension high. A thrilling conversion of the classics to one of our newer frontiers."--Kirkus Reviews"[T]he exotic setting and well-conceived details about undersea living, along with likable characters and a minor surprise at the end, will keep readers turning the pages."--Booklist