The Memory Bank (Hardcover)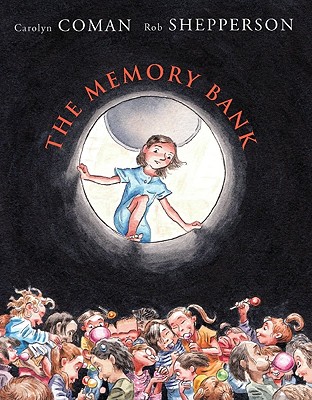 Description
---
A new classic from Newbery and Printz Honor winning author Carolyn Coman.The Memory Bank is the story of Hope Scroggins, who lives with her beloved sister Honey and the Dursley-esque parents they share. In fact these parents are SO horribly awful that one day, when the sisters disobey the rule against "no laughing", they banish Honey forever, telling Hope that she must simply "forget" her. Hope knows that she HAS to find her sister again, before her memories of Honey fade. But before she can even begin to look, she's whisked away to the World Wide Memory Bank, where her accounts are in disarray...
About the Author
---
Carolyn Coman was born in Evanston, Illinois, and graduated from Hampshire College, where she studied writing. She is the author of WHAT JAMIE SAW, a Newbery Honor book, and MANY STONES, a Michael L. Printz Honor book. Both books were also National Book Award Finalists. She lives in New Hampshire.

Rob Shepperson's drawings appear regularly in the New York Times, the Wall Street Journal, and the Washington Post, and he illustrated THE BIG HOUSE, by Carolyn Coman. He lives in Croton-on-Hudson, NY.
Praise For…
---
"This combination of prose and pictures tells an unusual tale of dreams, memories, and separated sisters. After her awful parents abandon Hope's little sister, Honey, the older girl winds up at the "Memory Bank," where dreams and memories are catalogued and counted. A prolific dreamer herself, Hope is fascinated by the strange workings of the bank and hopes to find something there to reunite her with Honey. While details of the bank's workings are a bit confusing and not especially engaging, it becomes clear that the bureaucracy stifles freedom and creativity. Honey's story, told mostly through pictures, is more compelling as she joins a gang of joyful, mischievous children intent on bringing chaos to the repressive world of the Memory Bank. More than half of the book consists of full-page pen-and-ink and pencil drawings that propel the story as much as the text does. Each short section finishes with a dramatic sequence of illustrations depicting Hope's dreams and Honey's parallel adventures, most ranging from four to eight pages. Varied use of shading, line, and perspective makes each scene distinct as the plot progresses visually. As the parallel narratives begin to merge and the sibling reunion approaches, events become more involving. The novel ends with a dream shared by the two sisters, satisfyingly depicted through a 16-page series of illustrations. The format clearly recalls Brian Selznick's The Invention of Hugo Cabret (Scholastic, 2007) in its use of extensive illustrations, though in this case the story lacks the impact of the images." -- School Library Journal"Is this book brilliant or bizarre? Maybe some of each. The Dursleys have nothing on the parents of Hope and Honey Scroggins, who are so unrelentingly awful they abandon little Honey when she disobeys them. Hope is told to forget her, but that she can't do. Then life takes another dizzying turn when Hope is picked up by a fellow named Obleratta and taken to the Memory Bank, where both memories and dreams are sorted and stored. Hope has been called in for a violation—not enough memories—but once there, she makes herself useful and doesn't want to go home. Besides, the bank is being attacked by the Clean Slate Gang, who wipes out memories by stuffing candy down the sorting machine. The book's uniqueness does not really come from the story, which can be confusing, though it also delights, with surprising, hard-to-forget characters and richly conceived scenarios. What makes this special is Shepperson's black-and-white art. Some pictures chronicle Hope's adventures, but others on a parallel track tell Honey's story in wordless spreads. Exuberantly alive, the pictures shape this into a cross between illustrated middle-grade fiction and graphic novel, for a somewhat younger audience than Brian Selznick's The Invention of Hugo Cabret (2007). As with that book, children will return again and again to study the images here and incorporate them into the sweeping tale of love lost and miraculously found." -- Booklist, starred review

"This combination of prose and pictures tells an unusual tale of dreams, memories, and separated sisters. After her awful parents abandon Hope's little sister, Honey, the older girl winds up at the "Memory Bank," where dreams and memories are catalogued and counted. A prolific dreamer herself, Hope is fascinated by the strange workings of the bank and hopes to find something there to reunite her with Honey. While details of the bank's workings are a bit confusing and not especially engaging, it becomes clear that the bureaucracy stifles freedom and creativity. Honey's story, told mostly through pictures, is more compelling as she joins a gang of joyful, mischievous children intent on bringing chaos to the repressive world of the Memory Bank. More than half of the book consists of full-page pen-and-ink and pencil drawings that propel the story as much as the text does. Each short section finishes with a dramatic sequence of illustrations depicting Hope's dreams and Honey's parallel adventures, most ranging from four to eight pages. Varied use of shading, line, and perspective makes each scene distinct as the plot progresses visually. As the parallel narratives begin to merge and the sibling reunion approaches, events become more involving. The novel ends with a dream shared by the two sisters, satisfyingly depicted through a 16-page series of illustrations. The format clearly recalls Brian Selznick's The Invention of Hugo Cabret (Scholastic, 2007) in its use of extensive illustrations, though in this case the story lacks the impact of the images." -- School Library Journal"Is this book brilliant or bizarre? Maybe some of each. The Dursleys have nothing on the parents of Hope and Honey Scroggins, who are so unrelentingly awful they abandon little Honey when she disobeys them. Hope is told to forget her, but that she can't do. Then life takes another dizzying turn when Hope is picked up by a fellow named Obleratta and taken to the Memory Bank, where both memories and dreams are sorted and stored. Hope has been called in for a violation—not enough memories—but once there, she makes herself useful and doesn't want to go home. Besides, the bank is being attacked by the Clean Slate Gang, who wipes out memories by stuffing candy down the sorting machine. The book's uniqueness does not really come from the story, which can be confusing, though it also delights, with surprising, hard-to-forget characters and richly conceived scenarios. What makes this special is Shepperson's black-and-white art. Some pictures chronicle Hope's adventures, but others on a parallel track tell Honey's story in wordless spreads. Exuberantly alive, the pictures shape this into a cross between illustrated middle-grade fiction and graphic novel, for a somewhat younger audience than Brian Selznick's The Invention of Hugo Cabret (2007). As with that book, children will return again and again to study the images here and incorporate them into the sweeping tale of love lost and miraculously found." -- Booklist, starred review