"The President Has Been Shot!": The Assassination of John F. Kennedy (Hardcover)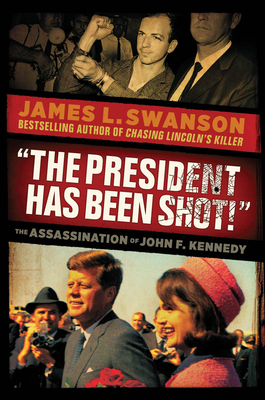 $18.99

Available in our Warehouse: Usually Ships in 3-8 Days
Description
---
A YALSA-ALA Excellence in Young Adult Nonfiction Award Finalist
A breathtaking and dramatic account of the JFK assassination by the New York Times bestselling author of Chasing Lincoln's Killer.
In his new young-adult book on the Kennedy assassination, James Swanson will transport readers back to one of the most shocking, sad, and terrifying events in American history. As he did in his bestselling Scholastic YA book, Chasing Lincoln's Killer, Swanson deploys his signature "you are there" style -- a riveting, ticking-clock pace, with an unprecedented eye for dramatic details and impeccable historical accuracy -- to tell the story of the JFK assassination as it has never been told before.
The book is illustrated with archival photos, diagrams, source notes, bibliography, places to visit, and index.
About the Author
---
James L. Swanson is the award-winning author of the bestseller Manhunt: The 12-Day Chase for Lincoln's Killer. His other books include Chasing Lincoln's Killer, an adaptation of Manhunt for young adults, and his follow-up, "The President Has Been Shot!: The Assassination of John F. Kennedy", which was a finalist for the YALSA-ALA Excellence in Young Adult Nonfiction award. He has held a number of government and think-tank posts in Washington, D.C.
Praise For…
---
Praise for "The President Has Been Shot!": The Assasination of John F. Kennedy:
A YALSA-ALA Excellence in Young Adult Nonfiction Award Finalist
"Swanson brings the same immediacy and thrillerlike tension he achieved in Chasing Lincoln's Killer to this harrowing account of the Kennedy assassination."-- Publishers Weekly
"Swanson charms readers with mesmerizing, little-known facts, making readers the experts and inspiring them to become historians and inquirers." -- VOYA Magazine
"Reads like a thriller, with intense pacing and an engaging narrative." -- School Library Journal
"Archival photographs, explicit diagrams of the assassination scene, source notes, and a bibliography that includes conspiracy-focused literature add further value to this strong addition to Kennedy titles." -- Booklist
Distinctions and Praise for Chasing King's Killer: The Hunt for Martin Luther King Jr.'s Assassin:
NAACP Image Award Nominee
Chicago Public Library Best Book of the Year
Kirkus Reviews Best Young Adult Book of the Year
2020 New Jersey Garden State Teen Book Award Nominee
Texas Topaz Reading List Top Ten Title for Nonfiction
Cybils Award Junion High Non-Fiction Finalist
* "Page-turning nonfiction that captures the tenor of the times with meticulous research and a trove of photographs. Exhaustive, exemplary backmatter further enhances the text. An important contribution to the understanding of a complex period in United States history that still reverberates today." -- Kirkus Reviews, starred review
* "....[James L. Swanson's] masterful work, akin to [his] previous success, Chasing Lincoln's Killer... takes on thriller pacing as it portrays, in alternating segments, King's ceaseless work with Ray's escape from prison and eventual plot to assassinate King.... This immersive history reveals, in gripping style, how one individual can impact history." -- Booklist, starred review
* "An absorbing chronicle of the lead-up to and aftermath of the assassination of an American leader... Riveting." -- Publishers Weekly, starred review
* "Detailed, well-organized, and vividly illustrated.... A top pick for YA history collections." -- School Library Journal, starred review
"This new title is a smash hit.... [Swanson's] action-packed pages are captivating.... I would hand this to any reader-from the seasoned to the reluctant. There is something in this book for everyone." -- School Library Connection, highly recommended
"A must-purchase for library collections." -- VOYA
Praise for Chasing Lincoln's Killer:
An ALA Best Book for Young Adults
Booklist Notable Children's Book
Recommended as one of the top children's books about Lincoln by American History Magazine
* "This account of Lincoln's assassination and the twelve-day search for his killer reads like a historical thriller."-- Publishers Weekly, starred review
* "The rich details and suspense are ever present . . . It is a tale of intrigue and an engrossing mystery." -- School Library Journal, starred review
"It's history that reads like a tragic thriller." -- USA Today
YALSA-ALA Excellence in Young Adult Nonfiction Award Finalist
"Swanson brings the same immediacy and thrillerlike tension he achieved in Chasing Lincoln's Killer to this harrowing account of the Kennedy assassination (an adult version, End of Days, will be published later this year). As the subtitle suggests, Swanson concentrates on the buildup to and aftermath of the Dallas shooting on November 22, 1963. After a quick overview of Kennedy's ascent to and first years in office (including the Bay of Pigs and the Space Race), he shifts between Kennedy and Lee Harvey Oswald in the days before and after the assassination. Swanson doesn't avoid the horrific details of the shooting, and he's open about the failings of well-meaning officials and staffers in the wake of the shooting. There's no danger of uncovering any sympathy for Oswald, painted by Swanson as "a complaining, self-pitying, attention-seeking, temperamental, impoverished idealogue." The book's meticulous design incorporates numerous diagrams and b&w period photographs, and extensive source notes back up Swanson's work. Even the simple decision to title the book's chapters by date emphasizes how, in the span of just a few days, America changed irrevocably." -
Publishers Weekly
starred review
Praise for "The President Has Been Shot!": The Assasination of John F. Kennedy:A YALSA-ALA Excellence in Young Adult Nonfiction Award Finalist
"Swanson brings the same immediacy and thrillerlike tension he achieved in Chasing Lincoln's Killer to this harrowing account of the Kennedy assassination."--
Publishers Weekly
"Swanson charms readers with mesmerizing, little-known facts, making readers the experts and inspiring them to become historians and inquirers." --
VOYA Magazine
"Reads like a thriller, with intense pacing and an engaging narrative." --
School Library Journal
"Archival photographs, explicit diagrams of the assassination scene, source notes, and a bibliography that includes conspiracy-focused literature add further value to this strong addition to Kennedy titles." --
Booklist
Distinctions and Praise for Chasing King's Killer: The Hunt for Martin Luther King Jr.'s Assassin:NAACP Image Award NomineeChicago Public Library Best Book of the YearKirkus Reviews Best Young Adult Book of the Year2020 New Jersey Garden State Teen Book Award NomineeTexas Topaz Reading List Top Ten Title for NonfictionCybils Award Junion High Non-Fiction Finalist
* "Page-turning nonfiction that captures the tenor of the times with meticulous research and a trove of photographs. Exhaustive, exemplary backmatter further enhances the text. An important contribution to the understanding of a complex period in United States history that still reverberates today." --
Kirkus Reviews
, starred review* "....[James L. Swanson's] masterful work, akin to [his] previous success, Chasing Lincoln's Killer... takes on thriller pacing as it portrays, in alternating segments, King's ceaseless work with Ray's escape from prison and eventual plot to assassinate King.... This immersive history reveals, in gripping style, how one individual can impact history." --
Booklist
, starred review* "An absorbing chronicle of the lead-up to and aftermath of the assassination of an American leader... Riveting." --
Publishers Weekly
, starred review* "Detailed, well-organized, and vividly illustrated.... A top pick for YA history collections." --
School Library Journal
, starred review"This new title is a smash hit.... [Swanson's] action-packed pages are captivating.... I would hand this to any reader-from the seasoned to the reluctant. There is something in this book for everyone." --
School Library Connection, highly recommended"A must-purchase for library collections." -- VOYAPraise for Chasing Lincoln's Killer:An ALA Best Book for Young AdultsBooklist Notable Children's BookRecommended as one of the top children's books about Lincoln by American History Magazine* "This account of Lincoln's assassination and the twelve-day search for his killer reads like a historical thriller."-- Publishers Weekly, starred review* "The rich details and suspense are ever present . . . It is a tale of intrigue and an engrossing mystery." -- School Library Journal, starred review"It's history that reads like a tragic thriller." -- USA Today