"The President Has Been Shot!": The Assassination of John F. Kennedy (CD-Audio)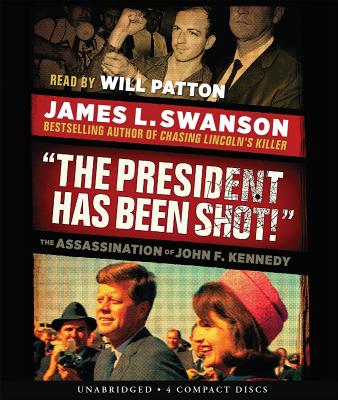 $24.99
This item is not currently available to order.
Description
---
A breathtaking and dramatic account of the JFK assassination by the NEW YORK TIMES bestselling author of CHASING LINCOLN'S KILLER!NARRATOR: Will PattonFORMAT: 4CDs, UnabridgedIn his new young-adult book on the Kennedy assassination, James Swanson will transport listeners back to one of the most shocking, sad, and terrifying events in American history. As he did in his bestselling Scholastic YA book, CHASING LINCOLN'S KILLER, Swanson will deploy his signature "you are there" style -- a riveting, ticking-clock pace, with an unprecedented eye for dramatic details and impeccable historical accuracy -- to tell the story of the JFK assassination as it has never been told before.
About the Author
---
James L. Swanson is the award-winning author of the bestseller Manhunt: The 12-Day Chase for Lincoln's Killer. His other books include Chasing Lincoln's Killer, an adaptation of Manhunt for young adults, and his follow-up, "The President Has Been Shot!: The Assassination of John F. Kennedy", which was a finalist for the YALSA-ALA Excellence in Young Adult Nonfiction award. He has held a number of government and think-tank posts in Washington, D.C.
Praise For…
---
"The sense of urgency that surrounded the assassination and manhunt is effectively captured by the author, and actor Will Patton interprets the text well, using differing tones and accents not just for quotes, but also for Swanson's descriptions of Booth's thoughts and actions and those of the men who searched for and found him. Sure to hold student interest." --SLJ, starred review"Will Patton commands the text with a hint of immediacy tempered by the somberness of the moment.... Patton is consistent with his delivery, though with much-appreciated intensity as the hunt closes in on Booth. Patton's character voices are distinctive." --AudioFile

YALSA-ALA Excellence in Young Adult Nonfiction Award Finalist


"The sense of urgency that surrounded the assassination and manhunt is effectively captured by the author, and actor Will Patton interprets the text well, using differing tones and accents not just for quotes, but also for Swanson's descriptions of Booth's thoughts and actions and those of the men who searched for and found him. Sure to hold student interest." --SLJ, starred review"Will Patton commands the text with a hint of immediacy tempered by the somberness of the moment.... Patton is consistent with his delivery, though with much-appreciated intensity as the hunt closes in on Booth. Patton's character voices are distinctive." --AudioFile