Naughty Kitty! (Hardcover)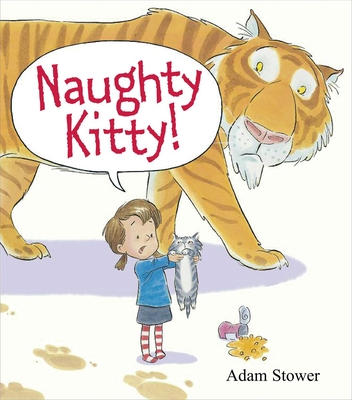 $18.69
This item is not currently available to order.
Description
---
NAUGHTY KITTY is the cute, cuddly, and funny follow-up title to Adam Stower's SILLY DOGGY!When Lily is finally allowed to have her very own kitten, strange things are afoot. Lily's brand new, teeny-tiny Kitty shouldn't be any trouble at all, but as soon as Lily leaves Kitty alone, hilarious hijinks are always around the corner. Kitty ruins the kitchen, Kitty ruins the den. And we won't talk about what Kitty did to the rug. (Ugg!) Could it be that someone or something else is to blame for Kitty's wild behavior? A loveable story that will have kids laughing out loud, NAUGHTY KITTY is a classic tale of mistaken cat-tastophies that makes for a roaringly purr-fect read.
About the Author
---
Adam Stower has illustrated many books for children including the Crimebiters series by Tommy Greenwald. He studied illustration at the Norwich School of Art and Design and at the University of Brighton. He lives with his daughter in Brighton, England. You can visit him at www.worldofadam.com.
Praise For…
---
Praise for Naughty Kitty:
"Emotionally counterbalancing the destruction, Stower's illustrations feature pleasant colors with mild, watery shadings and steady outlines; Lily has round cheeks, and even the tiger's stripes aren't too dramatically dark. Two surprises keep giggles coming-and don't skip the closing endpaper...Funny enough to create sincere longings for a hapless house cat and its large rampaging cousin." -Kirkus
Praise for Naughty Kitty:
"Emotionally counterbalancing the destruction, Stower's illustrations feature pleasant colors with mild, watery shadings and steady outlines; Lily has round cheeks, and even the tiger's stripes aren't too dramatically dark. Two surprises keep giggles coming-and don't skip the closing endpaper...Funny enough to create sincere longings for a hapless house cat and its large rampaging cousin." -Kirkus