The President Has Been Shot!: The Assassination of John F. Kennedy - Audio Library Edition (CD-Audio)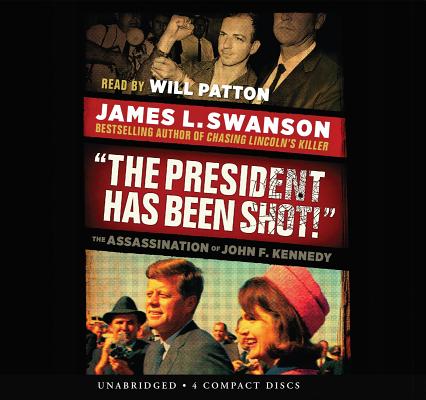 $49.99
This item is not currently available to order.
Description
---
A breathtaking and dramatic account of the JFK assassination by the NEW YORK TIMES bestselling author of CHASING LINCOLN'S KILLER!

FORMAT: 4 CDs, Unabridged
NARRATOR: TBA

In his new young-adult book on the Kennedy assassination, James Swanson will transport readers back to one of the most shocking, sad, and terrifying events in American history. As he did in his bestselling Scholastic YA book, CHASING LINCOLN'S KILLER, Swanson will deploy his signature "you are there" style -- a riveting, ticking-clock pace, with an unprecedented eye for dramatic details and impeccable historical accuracy -- to tell the story of the JFK assassination as it has never been told before.

About the Author
---
James L. Swanson is the Edgar Award winning author of the New York Times bestseller, Manhunt: The 12-Day Chase for Lincoln's Killer. His other books include Chasing Lincoln's Killer, the best-selling adaption of Manhunt for young adults.  He has held a number of government and think tank posts in Washington, D.C., including at the U.S. Department of Justice.
Praise For…
---
Praise for CHASING LINCOLN'S KILLER
An ALA Best Books for Young Adults
BOOKLIST Notable Children's Book
Recommended as one of the top children's books about Lincoln by AMERICAN HISTORY MAGAZINE.
* "The YA version of Swanson's bestselling MANHUNT this account of Lincoln's assassination and the twelve-day search for his killer reads like a historical thriller. . . . Abundant period photographs and documents enhance the book's immediacy."--PUBLISHERS WEEKLY, starred review
* "Divided into fourteen chapters and an epilogue, the sentences are shorter and chapters are condensed from the original but the rich details and suspense are ever present, . . . It is a tale of intrigue and an engrossing mystery. With the approaching bicentennial of Lincoln's birth, this is a most welcome addition to all libraries."--SCHOOL LIBRARY JOURNAL, starred review
YALSA-ALA Excellence in Young Adult Nonfiction Award Finalist