Night Witches: A Novel of World War Two (Hardcover)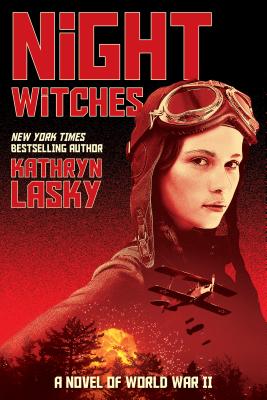 $17.99
This item is not currently available to order.
Description
---
16-year-old Valya knows what it feels like to fly. She's a pilot who's always felt more at home soaring through the sky than down on earth. But since the Germans surrounded Stalingrad, Valya's been forced to stay on the ground and watch her city crumble.When her mother is killed during the siege, Valya is left with one burning desire: to join up with her older sister, a member of the famous and feared Night Witches-a brigade of young female pilots.Using all her wits, Valya manages to get past the German blockade and find the Night Witches' base . . . and that's when the REAL danger starts. The women have been assigned a critical mission. If they succeed, they'll inflict serious damage on the Nazis. If they fail, they'll face death . . . or even worse horrors.Historical fiction master Lasky sheds light on the war's unsung heroes-daredevil girls who took to the skies to fight for their country-in an action-packed thrill ride that'll leave you electrified and breathless.
About the Author
---
Kathryn Lasky is the Newbery Honor-winning author of over 100 books for children and young adults. Her beloved Guardians of Ga'Hoole fantasy series has more than seven million copies in print, and she is the author of the Daughters of the Sea series and the Wolves of the Beyond series, as well as A Time for Courage and other Dear America titles. Kathryn has also written a number of critically acclaimed historical fiction titles, such as Beyond the Burning Time and True North. She lives with her husband in Cambridge, Massachusetts.



Praise For…
---
Praise for Night Witches
"Lasky shines when describing the Witches' bombing missions and amplifies the suspense
when Valya is shot down behind enemy lines. The daring young women are all dynamically well rounded, particularly Valya, who oscillates between caring for and competing with her sister. Perhaps most thrilling of all is that the Night Witches were a real, all-women regiment, a fact that might encourage young readers to seek out the history of these daredevil heroes." --Booklist
"A rarely told story of sisterhood, passion, and survival during World War II . . . a fast-paced slice of history for younger teens." -- Kirkus Reviews