Kill the Boy Band (Hardcover)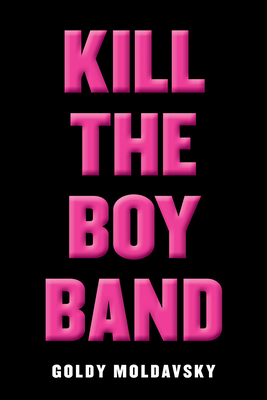 $19.79
This item is not currently available to order.
Description
---
From debut author Goldy Moldavsky, the story of four superfan friends whose devotion to their favorite boy band has darkly comical and murderous results.Just know from the start that it wasn't supposed to go like this. All we wanted was to get near them. That's why we got a room in the hotel where they were staying. We were not planning to kidnap one of them. Especially not the most useless one. But we had him-his room key, his cell phone, and his secrets.We were not planning on what happened next. We swear.From thrilling new talent Goldy Moldavsky comes a pitch-black, hilarious take on fandom and the badass girls who have the power to make-or break-the people we call "celebrities."
About the Author
---
Goldy Moldavsky writes YA fiction from her hometown of Brooklyn. She studied journalism in college, where she got to interview some cool celebrities for her school paper. After a bit she realized it'd be more fun making up stories about celebrities, so that's what she does in her writing. Some of her influences include Buffy the Vampire Slayer, the esteemed works of John Irving, and the Mexican telenovelas she grew up watching with her mother.
Praise For…
---
"Misery for the Belieber generation" -Observer.com"Fiercely entertaining...one of the smartest YA releases of this year." -New York Daily News"As fabulously bonkers as its title." -Entertainment Weekly, The Must List"Boy bands gets the Heathers treatment in this madcap macabre." -Kirkus"Wickedly funny." –NPR.org"Bitingly satirical." -Publishers Weekly"[For] anyone who's ever had the fortune-or misfortune-of being a fan." -Booklist "Hilarious…A must-have." -School Library Journal"I was impressed by how thoughtfully and seriously Goldy treats the subjects of fandom, passion, and being a girl." -Rookiemag.com

"Misery for the Belieber generation" -Observer.com"Fiercely entertaining...one of the smartest YA releases of this year." -New York Daily News"As fabulously bonkers as its title." -Entertainment Weekly, The Must List"Boy bands gets the Heathers treatment in this madcap macabre." -Kirkus"Wickedly funny." –NPR.org"Bitingly satirical." -Publishers Weekly"[For] anyone who's ever had the fortune-or misfortune-of being a fan." -Booklist "Hilarious…A must-have." -School Library Journal"I was impressed by how thoughtfully and seriously Goldy treats the subjects of fandom, passion, and being a girl." -Rookiemag.com