Hey, Kiddo (National Book Award Finalist) (Paperback)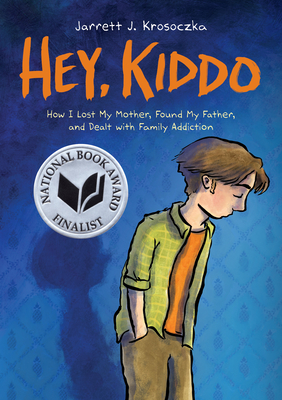 Staff Reviews
---
This moving, honest memoir addresses the opiod crisis from a kids' perspective. A difficult topic, but handled with much care.
— Suzanna
Description
---
The powerful, unforgettable graphic memoir from Jarrett Krosoczka, about growing up with a drug-addicted mother, a missing father, and two unforgettably opinionated grandparents.
In kindergarten, Jarrett Krosoczka's teacher asks him to draw his family, with a mommy and a daddy. But Jarrett's family is much more complicated than that. His mom is an addict, in and out of rehab, and in and out of Jarrett's life. His father is a mystery -- Jarrett doesn't know where to find him, or even what his name is. Jarrett lives with his grandparents -- two very loud, very loving, very opinionated people who had thought they were through with raising children until Jarrett came along.

Jarrett goes through his childhood trying to make his non-normal life as normal as possible, finding a way to express himself through drawing even as so little is being said to him about what's going on. Only as a teenager can Jarrett begin to piece together the truth of his family, reckoning with his mother and tracking down his father.

Hey, Kiddo is a profoundly important memoir about growing up in a family grappling with addiction, and finding the art that helps you survive.
About the Author
---
Jarrett J. Krosoczka is a New York Times bestselling author, a two-time winner of the Children's Choice Book Award for the Third to Fourth Grade Book of the Year, an Eisner award nominee, and the author and/or illustrator of more than 30 books for young readers. His critically acclaimed graphic novel memoir "Hey, Kiddo" was a National Book Award Finalist. His work includes several picture books, select volumes of Star Wars: Jedi Academy, the Lunch Lady graphic novels, and the Platypus Police Squad novel series. Jarrett has given two TED Talks, both of which have been curated to the main page of TED.com and have collectively accrued more than two million views online. He is also the host of The Book Report with JJK on SiriusXM's Kids Place Live, a weekly segment celebrating books, authors, and reading. Jarrett lives in Western Massachusetts with his wife and children, and their pugs, Ralph and Frank.
Praise For…
---
Praise for Hey, Kiddo:
A National Book Award Finalist
Denver Public Library's Best & Brightest Books of 2019
Booklist Editors' Choice - Youth
CBC/ TeenReads.com Teen Choice Awards
ALSC Notable Children's Books
In the Margins *Recommended Nonfiction Book List and a Top Ten Title
Action Book Club Selections
TLA Texas Topaz Reading List for Nonfiction
PA Young Reader's Choice Masterlist
Children's and Young Adult Bloggers Literacy Awards (The Cybils) - Winner
Indies Choice Best Young Adult Finalist
EBSCO SEE-IT Award (Finalist)
Ann Arbor Kids Read Comics Awards Nominee
Maryland Black-Eyed Susan Book Award (Master List)
Oklahoma Sequoyah Masterlist
"The story is a true reflection of the seesaw of life: There are moments of hardship and conflict, but also scenes of joy."--
The New York Times
"A candid, emotional graphic memoir about life with a heroin-addicted mother and rough but loving grandparents." --
New York Times Book Review
Editors' Choice
"Inspiring...poignant and funny...A testament to the power of art and creativity -- and a chain-smoking grandfather -- to save your life." --
New York Times Book Review
"Powerful...Krosoczka movingly reveals the complicated origins of his humor and art." --
Washington Post
"Deeply heartfelt...Sure to have a profound impact on those who pick it up." --
Paste
Magazine
* "Honest, important, and timely." --
Kirkus Reviews
, starred review
* "A must-have, this book will empower readers." --
School Library Journa
l, starred review
* "This nuanced graphic memoir . . . tells a story of finding identity." --
Publishers Weekly
, starred review
* "Krosoczka has meticulously crafted a severely honest portrayal of addiction, resilient familial love, and the healing power of art..." --
The Horn Book
, starred review
* "Deeply vulnerable, moving." --
Booklist
, starred review
Coverage from NPR
We appreciate your continued support!
If you would like to make a donation to help us through CLICK HERE.