Terrible But True: Awful Events in American History: Awful Events in American History (Paperback)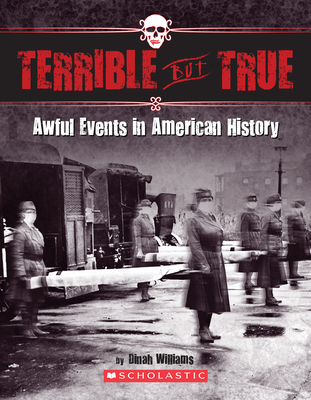 $10.99
This item is not currently available to order.
Description
---
Terrible But True invites readers to explore some of the weird, fascinating, scary, and altogether strange stories from America's past.Think American history is all boring battles and snooze-worthy old dudes? Think again!Welcome to Terrible But True, where you'll dig deep into America's forgotten past to uncover some creepy, disgusting, and just plain bizarre stories. From America's first serial killers and deadly vampire-like diseases to haunted ghost ships and vicious river pirates, our nation's history is weirder than you could have ever imagined. So dive in and prepare to be shocked, because sometimes the truth is even stranger than fiction.
About the Author
---
Dinah Williams is an editor and children's book author, who is fascinated by odd and unusual stories. Her nonfiction books include Abandoned Amusement Parks; Secrets of Walt Disney World; Haunted Hollywood; and Spooky Cemeteries, which won the 2009 Children's Choice Award. She lives in Cranford, New Jersey, with her husband and daughters, who hate all things scary. Visit her online at dinahwilliams.com.
Praise For…
---
""What's more alluring than a catastrophe? This easy-reading collection of calamities should attract both browsers and researchers like a magnet."" -Booklist

""What's more alluring than a catastrophe? This easy-reading collection of calamities should attract both browsers and researchers like a magnet."" -Booklist

""What's more alluring than a catastrophe? This easy-reading collection of calamities should attract both browsers and researchers like a magnet."" -Booklist