Latkes, Latkes, Good to Eat Send-A-Story (Paperback)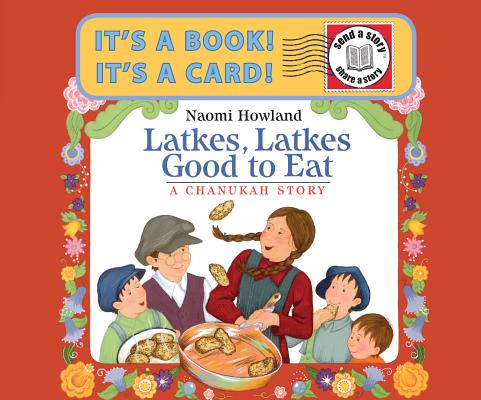 $4.99
This item is not currently available to order.
Description
---
This story of Chanukah generosity and the mischievousness of little brothers is a funny and
beautiful celebration of the Festival of Lights. An author's note and a recipe for Sadie's latkes are included.
Now, in the Send-A-Story format, this book is one gift that's sure to be a hit every night of Chanukah! A tiny, mailable version complete with addressable flaps and seals.Why send a card when you can Send-A-Story?
About the Author
---
Naomi Howland is the author and illustrator of several books for children, including The Matzah Man: A Passover Story and Latkes, Latkes, Good to Eat: A Chanukah Story. She lives in Claremont, California.
Praise For…
---
"This appealing story, told in the spirit of Tomie dePaola's Strega Nona (S & S, 1975), is perfect to share with a large group." School Library Journal
"A story that combines elements of familiar folktales and "The Sorcerer's Apprentice." Sadie and her four brothers are not looking forward to Chanukah; they are poor, and there is nothing to eat. Sadie goes out to collect firewood but takes pity on an old woman and gives her the wood. In return, the woman gives Sadie a magic frying pan. It will cook as many potato latkes (pancakes) as the family wants until Sadie utters the magic words that make it stop. The pan works fine while Sophie cooks, but when she leaves, the boys try--with predictable results. Latkes fill the house, then the streets, until Sadie arrives home to say the magic words. By that time, there are more than enough latkes for the whole village to feast. Howland effectively sets her story in a Russian shtetl, using words, intonation, and especially pictures. Working in gouache and colored pencil, she offers a snowy landscape peopled with Jewish villagers who work hard and celebrate harder. Especially nice is the overview of the villagers on the last night of Chanukah, men and women whirling under the stars eating all those latkes." --Booklist, ALA