The Life You're Made For: Finding Clarity, Confidence, and Courage to be Fully Alive (Hardcover)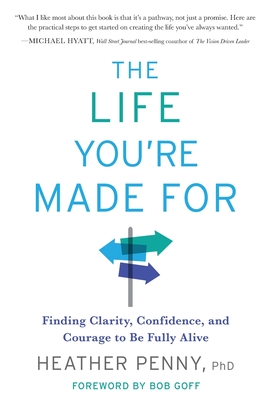 $36.44

Available in our Warehouse: Usually Ships in 3-8 Days
Description
---
Are You Tired of Chasing a Dream You Aren't Even Sure You Want Anymore? Or Have You Accomplished Your Dream Only to Discover It's Not as Fulfilling as You Thought It Would Be? It's Time to Get Excited About Your Life Again.
You've been on this journey called life for quite a while. So why aren't you where you want to be? And why is trying to get there so draining?
It's not that you don't have dreams. It's just that the world has a way of distracting you, letting you down, and wearing you out. At some point, the goal became just getting through the day . . . only to wake up the next morning and do it all again.
This way of life isn't sustainable. Nor is it the life you were made for.
In this revolutionary message of Clarity, Confidence, and Courage, acclaimed leadership coach Heather Penny helps you blaze a path to the life of your dreams through a transformative process she calls 3C Living. Her guidance helps individuals and teams get traction in their personal and professional lives. Whether you're new to executive leadership or are feeling like your career is on pause and your personal life is dragging you down, 3C Living provides a practical, proven blueprint to take you from where you are to where you want to be.
But breathe easy. This isn't one more book about doing more. You're probably already doing too much. This is a book about building rest into your hectic schedule, recognizing and reducing mind chatter, identifying the Givers in your life as well as those who may be taking too much. You'll read about the art of receiving, how to "spiral up" rather than down, and how to pursue that unique dream that goes beyond just surviving day to day to actually thriving. Along the way, Heather provides a few simple exercises, questions, and cautions to empower you to stay on track.
3C Living is your roadmap to getting excited about your life again. With the help of sustainable life practices, you can step into the life you're made for.