Victim F: From Crime Victims to Suspects to Survivors (Hardcover)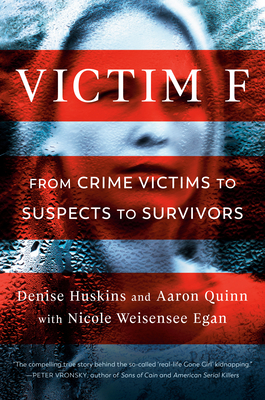 $27.00

Available in our Warehouse: Usually Ships in 3-8 Days
Description
---
The shocking true story of a bizarre kidnapping and the victims' re-victimization by the justice system.

In March 2015, Denise Huskins and her boyfriend Aaron Quinn awoke from a sound sleep into a nightmare. Armed men bound and drugged them, then abducted Denise. Warned not to call the police or Denise would be killed. Aaron agonized about what to do. Finally he put his trust in law enforcement and dialed 911. But instead of searching for Denise, the police accused Aaron of her murder. His story, they told him, was just unbelievable. When Denise was released alive, the police turned their fire on her, dubbing her the "real-life 'Gone Girl'" who had faked her own kidnapping.
 
In Victim F, Aaron and Denise recount the horrific ordeal that almost cost them everything. Like too many victims of sexual violence, they were dismissed, disbelieved, and dragged through the mud. With no one to rely on except each other, they took on the victim blaming, harassment, misogyny, and abuse of power running rife in the criminal justice system. Their story is, in the end, a love story, but one that sheds necessary light on sexual assault and the abuse by law enforcement that all too frequently compounds crime victims' suffering.
About the Author
---
Denise Huskins and Aaron Quinn are physical therapists born and raised in California. They married in September 2018, and in 2020 welcomed a daughter, Olivia.

Investigative journalist Nicole Weisensee Egan is the author of Chasing Cosby: The Downfall of America's Dad. Among her awards are the National Center for Missing & Exploited Children's prestigious Hope Award and Time Inc.'s Luce Award for public service.