Just Like You: A Novel (Hardcover)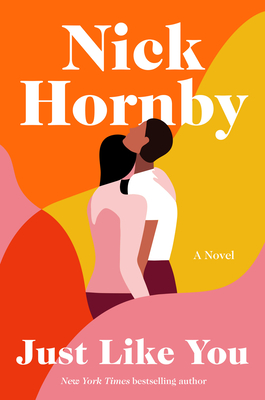 Description
---
"[A] charming, funny, touching, and relevant comedy." —The Boston Globe

"A provocative yet sweet romantic comedy." —People, Best of Fall 2020

This warm, wise, highly entertaining twenty-first century love story is about what happens when the person who makes you happiest is someone you never expected

Lucy used to handle her adult romantic life according to the script she'd been handed. She met a guy just like herself: same age, same background, same hopes and dreams; they got married and started a family. Too bad he made her miserable. Now, two decades later, she's a nearly-divorced, forty-one-year-old schoolteacher with two school-aged sons, and there is no script anymore. So when she meets Joseph, she isn't exactly looking for love--she's more in the market for a babysitter. Joseph is twenty-two, living at home with his mother, and working several jobs, including the butcher counter where he and Lucy meet. It's not a match anyone one could have predicted. He's of a different class, a different culture, and a different generation. But sometimes it turns out that the person who can make you happiest is the one you least expect, though it can take some maneuvering to see it through.

Just Like You is a brilliantly observed, tender, but also brutally funny new novel that gets to the heart of what it means to fall surprisingly and headlong in love with the best possible person--someone you didn't see coming.
About the Author
---
Nick Hornby is the author of seven other bestselling novels, including High Fidelity, About a Boy, and A Long Way Down, as well as several works of nonfiction. Many of his books have been turned into successful films and TV series. He has been Oscar-nominated twice, for his screenplays of An Education and Brooklyn. His ten-part, short-form TV series, State of the Union, directed by Stephen Frears, has recently been broadcast by the Sundance Channel and the BBC, and has won three Emmys. He lives in London.
Praise For…
---
Praise for Just Like You:

"Readers may think they know how the plot will resolve, but one of the pleasures of "Just Like You" is how skillfully Hornby takes his unlikely lovers, and the novel, to a conclusion that's both convincing and surprising."-- The Washington Post

"Hornby covers the issues of the day with snappy take-no prisoners commentary. . . As these scenes build toward a surprising, well-earned ending, Hornby continues to ask: Should we choose someone just like us, or take a risk?"— The Boston Globe
 
"With all the staples of a classic Hornby tale—humor, heart and emotion—Just Like You is the unexpected love story you need to read right now." —E! News
 
"His most surprising courtship yet." —Entertainment Weekly
 
"A sweet and funny testament to the wonderful things that happen when you allow yourself to follow your heart."—Real Simple

"This bighearted book is all about the beautiful unpredictability of love." —PopSugar

"A charming - and sharp - love story about what it means to fall for someone who is your polar opposite." —The Sunday Telegraph

"Sparkles with tip-top dialogue and pin-sharp comic timing." —The Daily Mail

"Frequently funny, consistently engaging ... it has great warmth in its heart." —The Observer

"This is in every regard a Nick Hornby novel—funny, precise, clever, and pointed—but it adds the element of surprise and the great charm of being a love story perfectly attuned to the strange days we're currently inhabiting."—Vogue

"Another unputdownable story of love and heartbreak." —Harper's Bazaar 

"In this age of lockdowns and social distancing, the novel asks timely questions about how people manage to connect when confronted with seemingly insurmountable obstacles. Sometimes, this brutally funny novel suggests, the perfect match might be the person who's utterly unlike you." —The Millions 
 
"Effervescent with chemistry and quick dialogue." —Booklist
 
"A hopeful balm for our unsettled postpandemic times."—Library Journal, STARRED review
 
"Hornby lives up to his reputation as bard of the everyday in this thoughtful romance that crosses lines of race, age, and class…Hornby is good company on the page and offers insights on his characters with aplomb, demonstrating an investment in each of their voices and an interest in the forces that draw people to one another. This is great fun." —Publishers Weekly
 
"Hornby is as charming as ever in this nimble, optimistic take on the social novel." —Kirkus Review
We appreciate your continued support!
If you would like to make a donation to help us through CLICK HERE.