Black Girl, Call Home (Paperback)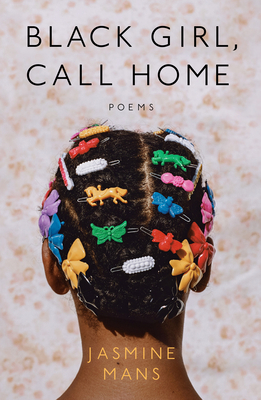 Staff Reviews
---
These poems broke me open and left me raw. Ten or fifteen minutes into reading Black Girl, Call Home, I'd gotten chills, I'd felt recognized, I'd started crying, I got the urge to call my mother. By the end of reading it--and I read it all in one setting, I couldn't tear myself away--I was stunned, I'd been panting with sobs, I was lying on my floor gasping. Reading Jasmine Mans' poetry is both visceral and heady--pounding through the head, the heart, and the body all at once. Let these poems devastate you.
— Anna
Description
---
A Most Anticipated Book of 2021 by Oprah Magazine • Time •  Vogue • Vulture • Essence • Elle • Cosmopolitan • Real Simple • Marie Claire • Refinery 29 •  Shondaland • Pop Sugar • Bustle • Reader's Digest 

"Nothing short of sublime, and the territory [Mans'] explores...couldn't be more necessary."—Vogue

From spoken word poet Jasmine Mans comes an unforgettable poetry collection about race, feminism, and queer identity.
 
With echoes of Gwendolyn Brooks and Sonia Sanchez, Mans writes to call herself—and us—home. Each poem explores what it means to be a daughter of Newark, and America—and the painful, joyous path to adulthood as a young, queer Black woman.

Black Girl, Call Home is a love letter to the wandering Black girl and a vital companion to any woman on a journey to find truth, belonging, and healing.
About the Author
---
Jasmine Mans is a Black American poet, artist from Newark, New Jersey. She graduated from the University of Wisconsin Madison, with a B.A. in African American Studies. Her debut collection of poetry, Chalk Outlines of Snow Angels, was published in 2012. Mans is the resident poet at the Newark Public Library. She was a member of The Strivers Row Collective.
Praise For…
---
"Lyrical, vivid."
—Time 

"Each poem is a meditation on a moment, a memory, and a history that guides the reader through the experience of Black womanhood in a way I've not experienced before. These poems both explode and glimmer on the page. They demand to be read, to be shared, to be revisited time and time again."
—Clint Smith, #1 New York Times bestselling author of How the Word Is Passed

"[Mans'] lucid and lyrical lines are as undeniable as those of a pop song yet as arresting as only spoken word artistry can be."
—O, the Oprah Magazine

"You are carrying in your hands a Black woman's heart."
—Jericho Brown, author of Pulitzer Prize winner The Tradition

"Read it in a day. Arresting. Beautiful language. Thoughtful examination of girlhood, Blackness, & queer identity. Bought a 2nd copy specifically for loaning out to friends. It's that good! Read it!"
—New York Times bestselling author Phoebe Robinson

"A tender distillation of black girlhood. Mans draws together both intricate adornment and the unvarnished truth."
—Raven Leilani, New York Times bestselling author of Luster

"Mans takes up the tools of Brooks and Sanchez into her good hands and chisels us an urgent and grand work, proving why she's the favorite poet of all the girls in the back of the bus."
—Danez Smith, author of National Book Award finalist for poetry Don't Call Us Dead
 
"This book is a haven for all the Black daughters out there, hoping to make sense of the power and powerlessness in their bodies, the connection to others' bodies, and the moments of everyday life that comprise so much of our identities."
—Morgan Jerkins, New York Times bestselling author of This Will Be My Undoing

"Spoken-word poet Jasmine Mans's gift with words is nothing short of sublime, and the territory she explores in this poetry collection—from waiting for her mother to get home from work and do her hair as a child in Newark to coming into her full as a young, queer Black woman—couldn't be more necessary."
—Vogue
 
"The collection is so steeped with tenderness, it feels intimate and wholly relatable."
—Maisy Card, author of These Ghosts Are Family 

"In a deft and breathtaking portrayal of identity, race, sexuality, family, and feminism, spoken-word poet Jasmine Mans explores the painful, joyous path to adulthood as a young, queer Black woman in America."
—Marie Claire

"Mans is the kind of poignant writer who gives voice to the voiceless and reminds us about the need to care for others."
— Shondaland

"Gorgeously precise…a timely and powerful book."
—Publishers Weekly

"If your grandmother has ever surprised you by bopping along to trap music at a cookout you will love Jasmine Mans' work."
—Essence

"Delving into heartbreak, community, family, race, queer identity, sexual violence, feminism, and celebrity, Mans' poems are startling and unforgettable."
—Booklist

"Jasmine Mans pulls at all the threads of who she is as a Black queer woman from Newark, unravels herself, then puts herself back together via clear, precise language that brooks no argument…Black Girl, Call Home moves from vignette to cultural criticism to ballad to eulogy to memoir with grace."
—Vulture

"Mans' story feels universal in so many ways."
—Real Simple

"Writing in surefooted verse, Mans refuses to allow our stories to be misunderstood."
—Dr. Alysia Harris, Pushcart nominated author of How Much We Must Have Looked Like Stars to Stars

"This might be your introduction to Jasmine but it won't be the last time you read her."
—Medium