Adult Assembly Required (Paperback)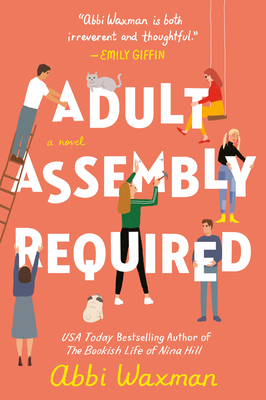 Staff Reviews
---
This was a sweet, warm, entertaining book about friendship and finally taking those steps to choose your own life. Certainly there is a love story (or two or possibly three) but really the focus is on friends helping each other to be themselves. I loved the cats, the dogs, the trivia, the donuts and I wished I could be apart of this happy group of friends.
— Lisa
Description
---
"Abbi Waxman is both irreverent and thoughtful."—#1 New York Times bestselling author Emily Giffin

A young woman arrives in Los Angeles determined to start over and discovers she doesn't need to leave everything behind after all, from Abbi Waxman, USA Today bestselling author of The Bookish Life of Nina Hill

When Laura Costello moves to Los Angeles, trying to escape an overprotective family and the haunting memories of a terrible accident, she doesn't expect to be homeless after a week. (She's pretty sure she didn't start that fire — right?) She also doesn't expect to find herself adopted by a rogue bookseller, installed in a lovely but completely illegal boardinghouse, or challenged to save a losing trivia team from ignominy…but that's what happens. Add a regretful landlady, a gorgeous housemate and an ex-boyfriend determined to put himself back in the running and you'll see why Laura isn't really sure she's cut out for this adulting thing. Luckily for her, her new friends Nina, Polly and Impossibly Handsome Bob aren't sure either, but maybe if they put their heads (and hearts) together they'll be able to make it work.
About the Author
---
Abbi Waxman is the USA Today bestselling author of I Was Told It Would Get Easier, The Bookish Life of Nina Hill, Other People's Houses, and The Garden of Small Beginnings. She lives in Los Angeles, California, with her husband and three children.
Praise For…
---
"If you love quirky, heartfelt stories about interesting characters and starting over, then Adult Assembly Required by Abbi Waxman is definitely the book for you."
—PopSugar

"Waxman's quick-witted and pithy prose gives readers a fun take on "Melrose Place," but instead of back-stabbing and bed-hopping there are trivia clubs and some old-fashioned will-they-or-won't-they?"
—USA Today

"Abbi Waxman explores the challenges of adulting in her warmhearted fifth novel, Adult Assembly Required. … With heart and humor, Waxman sensitively explores the challenges of leaving the nest while still loving your family, as well as learning to set clear boundaries and ask for help—sometimes in the same moment. …[A] witty, hopeful celebration of courage, community and spreading one's wings."
—Shelf Awareness, (starred review)

"Waxman has a talent for creating familiar characters who are flawed in all the ways many of us are but didn't know anyone else was. ... Waxman nimbly describes the normality of anxiety, and readers can count on her to provide comfort and feel-good smiles. Readers of Emily Henry, Linda Holmes, and Beth O'Leary will be delighted."
—Booklist

"Abbi Waxman's intrepid heroine has to find herself before she can find love in the heartwarming and hilarious Adult Assembly Required. ...the slow burn between Laura and Bob contributes to its witty, feel-good vibe. Fans of Waxman will recognize several of the wonderful supporting characters, and readers new to her work will want to pick up her backlist after devouring this delightful novel."
—Washington Independent Review of Books

"Adult Assembly Required is charming, gratifying and engaging. I loved every single character and their eccentricities. It was like walking into a bar where everyone knows your name! The story puts you at ease from the first page reading about the obstacles Laura has to overcome. This story is beautifully light, fluid, witty, funny, with many deep conversations. Laura's new close friends help her recover and find inner strength along the way, with a burgeoning romance with a handsome hunk at its core. Ms. Waxman's delightful new story warmed my heart thoroughly. Adult Assembly Required is totally irresistible!"
—Romance Junkies

Praise for I was Told It Would Get Easier

"Known for her charming and comical novels, Abbi Waxman's latest book stirs up all of the signature smiles and laughs."
—Woman's World

"Waxman shines at creating characters that feel like best friends, inspiring compassion, laughs, and cheers, and fans of Katherine Center and Linda Holmes' Evvie Drake Starts Over (2019) will adore this."
—Booklist

"Waxman expertly navigates the fraught shoals of college admissions in this spot-on tale…. Waxman's alternating first-person narration from Jessica and Emily rings true, while a memorable supporting cast…provide excellent support…This sweet treat doesn't require a college-bound child to enjoy, though anyone who has helped their offspring weather the admissions process will definitely appreciate this sharp send-up."
—Publishers Weekly

"Funny and insightful."
—BookRiot

"We're forever fans of Abbi Waxman's sweet, witty, feel-good novels. Her latest, about a mother and daughter making college visits along the East Coast, is her best yet."
—HelloGiggles

"An aptly and hilariously titled novel…Waxman again delivers with her signature wit and laugh-out-loud writing, offering us authentic characters who feel like people we've met and loved in our own lives — all while offering sly commentary on the roller coaster that is the college application process for parents and their college-hopefuls."
—Shondaland

"This book's strengths are the exploration of the mother-teen daughter dynamics and relationship and the author's remarkable gift for realistic, witty dialog. VERDICT: Recommended for fans of mother-daughter fiction with both lighthearted and serious moments."
—Library Journal

"Abbi Waxman's warm, quippy novels explore familial dynamics with sarcastic wit and plenty of heart…. Being a teenager--or parenting one--is tricky territory, but Waxman steers her characters through it with compassion, snappy dialogue and the right dose of zany humor. Things may (or may not) get easier for the Burnstein women, but the ride, literal and otherwise, is highly enjoyable."
—Shelf Awareness

Praise for The Bookish Life of Nina Hill

"Move over on the settee, Jane Austen. You've met your modern-day match in Abbi Waxman. Bitingly funny, relatable and intelligent, The Bookish Life of Nina Hill is a must for anyone who loves to read."
—Kristan Higgins, New York Times bestselling author of Life and Other Inconveniences

"Meet our bookish millennial heroine—a modern-day Elizabeth Bennet, if you will… Waxman's wit and wry humor stand out."
—The Washington Post

"Abbi Waxman offers up a quirky, eccentric romance that will charm any bookworm…. For anyone who's ever wondered if their greatest romance might come between the pages of books they read, Waxman offers a heartwarming tribute to that possibility."
—Entertainment Weekly

 "It's a shame The Bookish Life of Nina Hill only lasts 350 pages, because I wanted to be friends with Nina for far longer."
—Refinery29

"I hope you're in the mood to be downright delighted, because that's the state you'll find yourself in after reading The Bookish Life of Nina Hill."
—PopSugar

"The Bookish Life of Nina Hill will put a smile on your face the entire time you're reading it. It's a light, fun summer read with a cast of colorful and lovable characters that you wish were real and that you had on your trivia team. This book is the perfect beach read or pick-me-up for a cloudy day."
—Hypable

"[A] quirky, sweet story."
—Woman's World

"In this love letter to book nerds, Waxman introduces the extraordinary introvert Nina Hill…. With witty dialogue and a running sarcastic inner monologue, Waxman brings Nina to vibrant life as she upends her introverted routine and becomes part of the family. Fans of Jojo Moyes will love this."
—Publishers Weekly

"Waxman has created a thoroughly engaging character in this bookish, contemplative, set-in-her ways woman. Be prepared to chuckle."
—Kirkus (starred review)

"Book nerds will feel strong kinship with the engaging, introverted Nina Hill, who works in a bookstore, plays pub trivia, and loves office supplies… Readers will be captivated by Nina's droll sense of humor."
—Booklist (starred review)

"...charming and relatable for any introvert who would rather pass time with fictional characters than people, but will rise to the occasion with the right support."
—BookTrib

"Book lovers will absolutely relate to the central character in Abbi Waxman's third novel."
—O, The Oprah Magazine

"If you relate to staying in and JOMO (joy of missing out), you'll relate to Nina."
—Betches

"This novel is filled with characters you'll love and wish you lived next door to in real life."
—Bustle