Arsenic and Adobo (A Tita Rosie's Kitchen Mystery #1) (Paperback)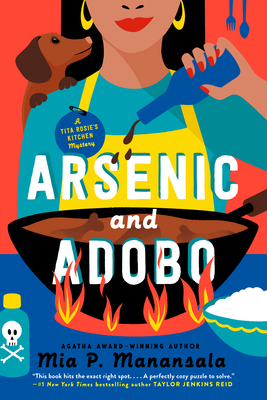 Staff Reviews
---
This (literally) delicious cozy mystery is a delight!
— Suzanna
Description
---
One of BuzzFeed's Highly Anticipated Mystery Novels of 2021!

The first book in a new culinary cozy series full of sharp humor and delectable dishes—one that might just be killer....

When Lila Macapagal moves back home to recover from a horrible breakup, her life seems to be following all the typical rom-com tropes. She's tasked with saving her Tita Rosie's failing restaurant, and she has to deal with a group of matchmaking aunties who shower her with love and judgment. But when a notoriously nasty food critic (who happens to be her ex-boyfriend) drops dead moments after a confrontation with Lila, her life quickly swerves from a Nora Ephron romp to an Agatha Christie case.

With the cops treating her like she's the one and only suspect, and the shady landlord looking to finally kick the Macapagal family out and resell the storefront, Lila's left with no choice but to conduct her own investigation. Armed with the nosy auntie network, her barista best bud, and her trusted Dachshund, Longanisa, Lila takes on this tasty, twisted case and soon finds her own neck on the chopping block…
About the Author
---
Mia P. Manansala is a writer from Chicago who loves books, baking, and bad-ass women. She uses humor (and murder) to explore aspects of the Filipino diaspora, queerness, and her millennial love for pop culture.

She is the winner of the 2018 Hugh Holton Award, the 2018 Eleanor Taylor Bland Crime Fiction Writers of Color Award, the 2017 William F. Deeck - Malice Domestic Grant for Unpublished Writers, and the 2016 Mystery Writers of America/Helen McCloy Scholarship. She's also a 2017 Pitch Wars alum and 2018-2019 mentor.
Praise For…
---
One of Crime Reads' "Most Anticipated Crime Books of 2021"!

One of BookRiot's "Most Anticipated Books of 2021"!

One of Bustle's "Most Anticipated Books of Spring 2021"!

"This debut introduces readers to Filipino American food and culture, with its emphasis on family. There are cozy tropes (the close-knit community, the food business), but the emphasis on the Tagalog language, the culture, and drug dealing in a small town add gravity and individuality to this outstanding series kick-off."—Library Journal, starred review

"A delightfully decadent whodunit."—Woman's World

"[An] enjoyable and endearing debut cozy...Manansala peppers the narrative with enough red herrings to keep readers from guessing the killer, but the strength of the novel is how family, food and love intertwine in meaningful and complex ways. When Lila bakes her signature ube crinkle cookies, made with purple yams, we are in for a delectable treat."—New York Times Book Review

"What an absolute treat! Mia P. Manansala has crafted a delicious mystery full of wit and wile that kept me laughing and guessing as I devoured every page. Fresh, fun, and feisty, amateur sleuth Lila Macapagal takes readers on a wild and savory ride as she sets out to catch a killer. I can't wait to read more in this fabulous new series!"—Jenn McKinlay, New York Times bestselling author of One for the Books

"Chock-full of food lore, this delicious mystery will leave readers hungry for more of the adventures of Lila, her friends and relatives, and her chunky dachshund (who is named after a kind of short, fat sausage). Cozy fans are in for a treat."—Publishers Weekly, starred review

"Arsenic and Adobo caught me from the first line, and it only got better from there. Manansala's fun, fresh voice spins an enchanting fusion of Filipino-American food and culture, artfully and seamlessly woven into a smart, satisfying mystery that made me laugh out loud."—Olivia Blacke, author of Killer Content

"Mia Manansala's debut, Arsenic and Adobo, serves up a cozy plate of ube crinkles with a side of murder. Readers are sure to salivate over this Filipino-American mystery as Lila smokes out the food critic's killer."—Roselle Lim, author of Vanessa Yu's Magical Paris Tea Shop

"A stand-out cozy mystery full of heart, the importance of home, and tons of good food...Lila Macapagal is fun, fierce, and all about family."—Gigi Pandian, Agatha Award-winning author of The Glass Thief

"A much welcome entry into the culinary cozy genre, packed full of mouth-watering food and jaw-dropping reveals.  I can't wait to see what's next for Lila Macapagal and the unforgettable characters of Shady Palms. It's guaranteed to be your next favorite cozy series. Just don't read it on an empty stomach!"—Kellye Garrett, Agatha Award-winning author of Hollywood Ending

"Mouth-watering dishes and a funny, smart amateur sleuth makes Arsenic and Adobo by Mia P. Manansala my favorite new culinary cozy mystery series."—Lynn Cahoon, New York Times bestselling author of the Kitchen Witch mystery series

Mia Manansala proves to be a masterful storyteller and incrementally drops delicious breadcrumbs of clues and culinary delights that will eventually culminate in an unexpected denouement. Her world is populated with a cast of endearing and engaging characters...Excuse me, while I locate a Filipino restaurant near me to delve into the joys of their cuisine."—Mystery and Suspense 

"Finally! Filipinos, the second largest Asian American population in the US, get to be center stage with the release of this delightful cozy mystery full of aunties and other strong women—ninangs, titas and a lola! You will be rooting for Lila Macapagal to save the family restaurant and keep herself out of jail while interacting with her interfering yet well-meaning relatives. The first in a lip-smacking series!"—Naomi Hirahara, Edgar Award-winning author of Iced in Paradise

"Arsenic and Adobo is pure murder mystery fun with a hefty dose of humor and heart. It's got everything I've always wanted in a cozy mystery and more: a tenacious amateur sleuth main character with a take-no-prisoners attitude, small town vibes, charismatic locals, meddling aunties, a multicultural cast of characters, and mouth-watering food descriptions. It's an utter delight from the first sentence to the very last page."—Sarah Smith, author of Simmer Down
 
"Strong, take-charge, wise-cracking women are the backbone of Arsenic and Adobo, Mia Manansala's fun firecracker of a first cozy mystery...Cozy mystery lovers—and foodies—will be licking their literary chops, eagerly awaiting the next installment in this winning, multicultural series that also offers a delectable blend of romcom and whodunnit elements."—Shelf Awareness, starred review

"Cozy fans are gonna love this series! Filled with Filipino food, a bevy of meddling relatives, and a plucky, unflappable but admittedly flawed amateur sleuth, Lila Macapagal . . . Arsenic and Adobo shines."—Abby Collette, author of A Game of Cones

"A debut that embraces its lightness."—Kirkus Reviews

"Along with Lila's funny and feisty voice, there is a lot to love here: complex clues, mouthwatering food descriptions, and a diverse cast of characters. Fans of Vivien Chien will devour this one and look forward to more."—Booklist, starred review

"Deftly written with inherently interesting plot twists and turns, as well as a thoroughly fun read from cover to cover."—Midwest Book Review

"This cozy mystery is well-paced, told from the point-of-view of Lila, and will have you guessing to the very end."—NewCity

"A hilarious and delicious mystery that is bound to leave you laughing and wanting more."—Medium
We appreciate your continued support!
If you would like to make a donation to help us through CLICK HERE.