This Is Your Mind on Plants (Hardcover)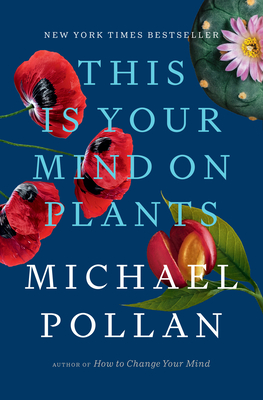 $28.00

Available in our Warehouse: Usually Ships in 3-8 Days
Staff Reviews
---
Would industrialization have been possible without the 18th century advent of coffee in the workplace? Would we be in the throes of an opioid epidemic if the war on drugs had actually been about protecting public health? As science reveals the astonishing healing effects of psychedelics, how can Western medicine integrate them into its repertoire while being fair and responsible to the traditional cultures--and ecology--from which they emerged? In riveting detail, Pollan tackles these questions and more, illuminating a point of contact between humans and the natural world that has too long been treated in reductivist terms, which has often led to disastrous outcomes. Part history, memoir, and scathing critique of the catastrophic drug war, Pollan's latest explains the fascinating and complex roles three mind-altering molecules (caffeine, morphine, and mescaline) have played in the course of human history.
— Ian
I will happily follow Michael Pollan down any rabbit hole he chooses to go down. His strength is in making his journey personal. The story of each of these three mind-altering plants is fascinating, but what makes the book so compelling is the first person narrative of Pollan's discoveries and experimentation. Especially his experimentation. Opium, caffeine, and mescaline have all impacted humans for centuries. Pollan's discoveries of how bizarre and illogical American laws regarding these substances are fascinating and horrifying in equal measure. For instance: it is legal to grow poppies UNLESS you know you could make opium from them. Not that you planned to do so, but that you knew it was possible.
— Lisa
Description
---
The instant New York Times bestseller | A Washington Post Notable Book | One of NPR's Best Books of the Year

"Expert storytelling . . . [Pollan] masterfully elevates a series of big questions about drugs, plants and humans that are likely to leave readers thinking in new ways." —New York Times Book Review

From #1 New York Times bestselling author Michael Pollan, a radical challenge to how we think about drugs, and an exploration into the powerful human attraction to psychoactive plants—and the equally powerful taboos.

Of all the things humans rely on plants for—sustenance, beauty, medicine, fragrance, flavor, fiber—surely the most curious is our use of them to change consciousness: to stimulate or calm, fiddle with or completely alter, the qualities of our mental experience. Take coffee and tea: People around the world rely on caffeine to sharpen their minds. But we do not usually think of caffeine as a drug, or our daily use as an addiction, because it is legal and socially acceptable. So, then, what is a "drug"? And why, for example, is making tea from the leaves of a tea plant acceptable, but making tea from a seed head of an opium poppy a federal crime?

In This Is Your Mind on Plants, Michael Pollan dives deep into three plant drugs—opium, caffeine, and mescaline—and throws the fundamental strangeness, and arbitrariness, of our thinking about them into sharp relief. Exploring and participating in the cultures that have grown up around these drugs while consuming (or, in the case of caffeine, trying not to consume) them, Pollan reckons with the powerful human attraction to psychoactive plants. Why do we go to such great lengths to seek these shifts in consciousness, and then why do we fence that universal desire with laws and customs and fraught feelings?

In this unique blend of history, science, and memoir, as well as participatory journalism, Pollan examines and experiences these plants from several very different angles and contexts, and shines a fresh light on a subject that is all too often treated reductively—as a drug, whether licit or illicit. But that is one of the least interesting things you can say about these plants, Pollan shows, for when we take them into our bodies and let them change our minds, we are engaging with nature in one of the most profound ways we can. Based in part on an essay published almost twenty-five years ago, this groundbreaking and singular consideration of psychoactive plants, and our attraction to them through time, holds up a mirror to our fundamental human needs and aspirations, the operations of our minds, and our entanglement with the natural world.
About the Author
---
Michael Pollan is the author of eight books, including How to Change Your Mind, Cooked, Food Rules, In Defense of Food, The Omnivore's Dilemma, and The Botany of Desire, all of which were New York Times bestsellers. He is also the author of the audiobook Caffeine: How Coffee and Tea Made the Modern World. A longtime contributor to The New York Times Magazine, Pollan teaches writing at Harvard University and the University of California, Berkeley. In 2010, Time magazine named him one of the one hundred most influential people in the world.
Praise For…
---
"Delightful . . . [This Is Your Mind On Plants] aims to collapse the distinctions between legal and illegal, medical and recreational, exotic and everyday, by appealing to the principle that unites the three: the affinities between plant biochemistry and the human mind." —New York Review of Books

"[A] thoughtful study . . . As the U.S.'s drug policies become less punitive, [Pollan] argues, we should think more clearly about substances we've come to depend on." —The New Yorker

"[A] wonderful and compelling read that will leave you thinking long after you set it down . . . Pollan is an astonishingly good writer, at times intimate and vulnerable, at times curious and expository, always compelling and credible. Reading his writing can be kind of like taking a psychedelic—a literary onomatopoeia." —Washington Post
 
"Pollan is a mindful and enthusiastic psychonaut. He is also a gifted writer, who synthesizes unruly social histories and wreathes them around his own drug-taking experiences. And he articulates these experiences with great insight and eloquence." —The New Republic 

"Expert storytelling . . . [Pollan] masterfully elevates a series of big questions about drugs, plants and humans that are likely to leave readers thinking in new ways." —New York Times Book Review

"Fascinating . . . This Is Your Mind On Plants has much to offer its readers, whether they are curious about the plant-based adventures of others or the science of substances at work in their own minds. With historical depth, political punch, and narrative exuberance, Pollan's book sounds a call to reimagine society's relationship with psychoactive plants." —Boston Globe

"Pollan's insatiable appetite to learn every possible morsel about the subject on which he is writing is a gift that has proved itself with best-seller after best-seller . . . . Anchored by a refreshing willingness to expose his own blind spots, [This Is Your Mind On Plants] is an engrossing, plant-powered blend of general history, contemporary reporting and potent self-reflection."—San Francisco Chronicle

"The author of How to Change Your Mind turns his attention to three consciousness-altering drugs—opium, mescaline and caffeine (yes, it's a drug)—in this eye-opening exploration." —People

"[H]ighly engaging reading . . . Pollan's writing always has a personal aspect to it, but in his latest work he takes an even more central role in the narrative, and his book is the better for it." —The Daily Beast

"Pollan weaves together three separately engaging stories in a pleasantly meandering style, deftly using his personal experiences with each compound as a jumping-off point for small forays into anthropology, history, politics, psychology, molecular biology, and neuroscience. Even the most distracted reader will come away with an understanding of the physical effects of the spotlighted substances as well as their cultural significance." —Science

"The omnivorously curious Pollan pivots off his provocative How to Change Your Mind with an enthralling odyssey into a trio of mind-altering drugs found in plants: opium, caffeine, and mescaline. In this wide-ranging, deliciously written study, he asks, why does one power us up each morning while the other two are shrouded in taboo? You'll never look at a Starbucks Pike's Peak the same way again." —Oprah Daily

"This Is Your Mind on Plants is an entertaining blend of memoir, history and social commentary that illustrates Pollan's ability to be both scientific and personal. By relying on contextual history and focusing on three popular, if misunderstood, drugs, Pollan challenges common views on what mind-altering drugs are and what they can accomplish."  —BookPage (starred​ review)

"Pollan is a master of breaking down complex science into an engaging story and challenging long-held societal beliefs. His newest offering, which follows his examination of the science of psychedelics in 2018's How to Change Your Mind, aims to unpack our ideas about what constitutes a 'drug' and, fundamentally, why we seek them." —TIME

"Building on his lysergically drenched book How to Change Your Mind (2018), Pollan looks at three plant-based drugs and the mental effects they can produce. . . . A lucid (in the sky with diamonds) look at the hows, whys, and occasional demerits of altering one's mind." —Kirkus (starred review)