Cócteles de América Latina / Spirits of Latin America (Paperback)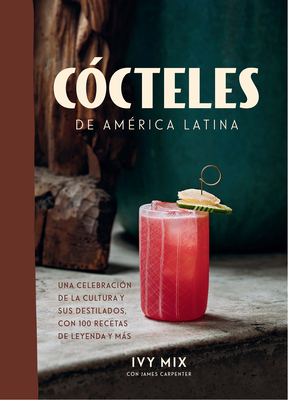 Description
---
Cócteles de América Latina ha ganado el premio al mejor libro de cócteles del año, otorgado por la International Association of Culinary Professionals (IACP).

Ivy Mix, bartender nominada al premio James Beard, explora la historia y la cultura de los licores latinoamericanos en esta crónica de viaje asombrosamente fotografiada, con más de 100 cócteles irresistibles que incluyen tequila, ron, pisco y más.
 
A través de un profundo análisis de la bebida en América Latina, este magnífico libro ofrece un rico contexto cultural e histórico para aprender sobre los cócteles latinos. Ivy Mix lleva años viajando a la región, conociendo la cultura latina a través de sus bebidas locales. Lo que ella demuestra en este libro es el descubrimiento de que los cócteles latinos representan y emulan el paladar latino y la vida latina, donde se enfatiza el picante, la vivacidad, la fuerza y ​​la variación. Luego de adentrarse en la historia del tequila y otros licores tradicionales de México, Ivy sigue el rastro del azúcar a través del Caribe y más allá, terminando en Chile, Perú y Bolivia, donde los licores a base de uva como el pisco y el singani se han elaborado durante generaciones.
 
Con más de 100 recetas que se han popularizado en Leyenda, su bar en Brooklyn, Ivy nos presenta versiones divertidas de cócteles tradicionales como el pisco sour, la margarita y el mojito, además de bebidas inspiradas en sus viajes a América Latina.
 
"Como el primer sorbo de un cóctel helado en una cálida noche de San Juan, este libro refresca y deleita".

- Martin Cate, autor y propietario de Smuggler's Cove, San Francisco

ENGLISH DESCRIPTION

A James Beard Award-nominated bartender explores the history and culture of Latin American spirits in this stunningly photographed travelogue—with 100+ irresistible cocktails featuring tequila, rum, pisco, and more.

"Ivy's unique combination of taste, talent, and tenacity make her the ideal 'spirit' guide."—Steven Soderbergh, filmmaker, professional drinker, and owner of Singani 63

NAMED ONE OF THE BEST COOKBOOKS OF THE YEAR BY POPMATTERS

Through its in-depth look at drinking culture throughout Latin America, this gorgeous book offers a rich cultural and historical context for understanding Latin spirits. Ivy Mix has dedicated years to traveling south, getting to know Latin culture, in part through what the locals drink. What she details in this book is the discovery that Latin spirits echo the Latin palate, which echoes Latin life, emphasizing spiciness, vivaciousness, strength, and variation. After digging into tequila and Mexico's other traditional spirits, Ivy Mix follows the sugar trail through the Caribbean and beyond, winding up in Chile, Peru, and Bolivia, where grape-based spirits like pisco and singani have been made for generations.

With more than 100 recipes that have garnered acclaim at her Brooklyn bar, Leyenda, including fun spins on traditional cocktails such as the Pisco Sour, Margarita, and Mojito, plus drinks inspired by Ivy's travels, like the Tia Mia (which combines mezcal, rum, and orange curacao, with a splash of lime and almond orgeat) or the Sonambula (which features jalapeño-infused tequila, lemon juice, chamomile syrup, and a dash of Peychaud's bitters), along with mouthwatering photos and gorgeous travel images, this is the ultimate book on Latin American spirits.
About the Author
---
Ivy Mix es una de las bartenders más conocidas de Estados Unidos. Ganó el premio Spirited Award al Mejor Bartender Americano del Año en Tales of the Cocktail, y Wine Enthusiast la nombró "Mixóloga del Año". A través de su trabajo con Speed Rack, una competencia de coctelería para mujeres, Mix viaja y trabaja en coctelería por todo el país, además de operar su propio bar pan-latino, Leyenda, con sede en Brooklyn, que fue nominado para el premio James Beard Award for Outstanding Bar Program en 2019.